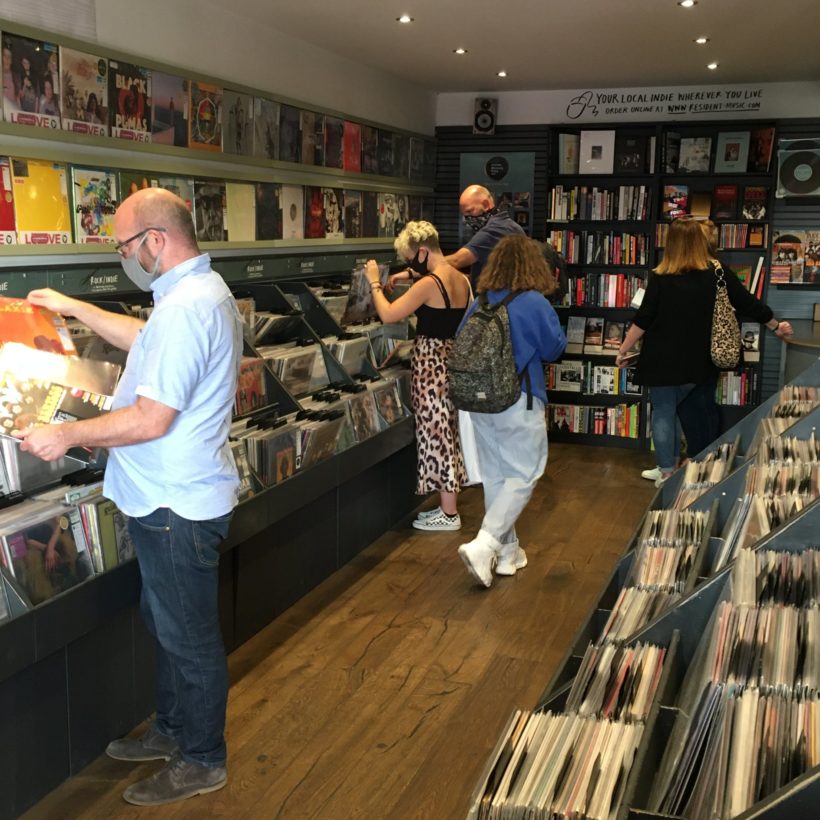 National Album Day 2020 is here, with a focus on the 80s and #MyAlbumEscape. To celebrate the album we chatted to Sly5thAve, Glyn (Magic Drum Orchestra), Hemai, Maralisa (Space Captain) and V.B. Kuhl about some of their favourite LPs from the 80s and beyond.
---
SLY5THAVE

"These are 5 of my favourite albums from the 80s. Honestly as a child of the 80s they may be on my desert island list as well." 
Dirty Mind – Prince 
"Prince is the king. Forever. This record has 3 of my favourite Prince songs – 'Partyup', 'Uptown', & 'Head'. Plus the cover is super iconic. Nobody was badder than Prince!"
Gap Band – II
"This record is one of my favourites. Also have this on vinyl. Very much in the spirit of what was happening at the time and I think heavily influenced by Earth Wind and Fire. My favourite track on here is Party Lights." 
Earth Wind & Fire – Faces 
"Earth Wind & Fire is my favourite band of all time. Their message of course but the thing that drew me to them was their orchestration and arrangements. This record is so dope. Highlights for me are 'Let Me Talk', 'Sparkle', and 'Song In My Heart'." 
The Time – The Time
"Grew up with this record. Actually I recently swiped an original out of my parents collection. Mutiny is one of the funkiest Prince songs ever written. The others are dope too—'Get Off', 'The Stick'. Whole record slaps." 
Sade – Love is Stronger Than Pride
"'Love Is Stronger Than Pride' is one of my favourite songs of all time. I get goosebumps every time I hear it. And 'Paradise' is a banger."
Sly5thAve's new album 'What It Is' is out now.
---
MARALISA

Bonnie Raitt – Nick of Time
Leonard Cohen – I'm Your Man
Ego Ella May – Honey For Wounds
Seu Jorge & Rogê – self-titled
(Sandy) Alex G – Rocket
Fiona Apple – Fetch The Bolt Cutters
"Bonnie Raitt's 'Nick of Time' and Leonard Cohen's 'I'm Your Man' were two staples of my household growing up – both softly playing in the background to set the tone for a late morning at home on the weekend or blasting through the speakers accompanied by loud cooking and my mother chatting on the landline. They were both released before I was born but they represented the early 90's for me, welcoming me into a musical world that had no rules, where instrumentation was loose and imaginative, poetry as lyricism was at the forefront and groove had grit and character. I was deeply inspired by both of these artists and albums as a kid. 
UK artist Ego Ella May's new record 'Honey For Wounds' is one of the most beautifully crafted, soulful and mature R&B records I have heard in a while. I was so honoured to join her on the 'Never Again' interlude, as she is a huge inspiration to me and we have been building a friendship online over the passed few years and share so many vocal and musical influences. Two other new releases that have been really getting me through quarantine are Fiona Apple's new record 'Fetch The Bolt Cutters' and Night Dreamer Records' Seu Jorge & Rogê self-titled album, a beautiful collaboration between two well known Brazilian artists. These two albums could not be more different but they represent my various emotional states during this time, which I think many people can also resonate with! Chaos, fear/anger and release and also calm and introspection."
---
Machito Salsa Big Band – Machito 1982
Tom Waits – Swordfishtrombones
Prefab Sprout – Steve McQueen
Prince – Parade
Todd Terry – To the Batmobile Let's Go
"The 80s for me was the era of cassettes – I wasn't buying much vinyl and have very little from that era left in the collection.  But there was so much less music around – compared to today – to listen to back then I certainly caned all the above albums.
My top pick would probably be 'Parade' as it was my gateway drug to really loving Prince, with it's incredible production and playing and breadth of ideas.  But I REALLY played Steve McQueen to death and still get goosebumps when I hear some tracks even today.  The Todd Terry is there because it was one of the first "house" artist albums, and when I started clubbing in 1989 that was on the cassette deck permanently, way before I had my own decks and attempted to make anyone dance."
---
Joao Gilberto – Amoroso
Herbie Hancock – Head Hunters
George Duke – Faces In Reflection
Airto – I'm Fine How Are You
Steve & Teresa – Catching A Wave
Airto – I'm Fine How Are You
"I remember hearing tunes from this album passively throughout my life. Couldn't recall any of the track names or the instrumentation over this record until only about 2 years ago, when I was around 18/19. I was delving into the world of Flora Plurim and came across this album as she is credited as a producer on it, and I recognised the cover art so I gave it a spin. When I listened, I had somewhat of a spiritual kick through my body, like my memories from the passive listening locked in with the present. Since then it's been on repeat and ranks at possibly my favourite bed of music to date. Absolutely sick album in my personal opinion, iconic!"
---
Funkadelic – Electric Spanking of War Babies 1981
Newceus – Jam On Revenge 1983
Run-DMC – Run-D.M.C.
Trouble Funk – Say What!
Beastie Boys' – Paul's Boutique

Newceus – Jam On Revenge
"I remember when purchasing this album in 1984 there was no way to listen to it before buying back then. So I came home, put it on the turntable and started to listen. I needed a second round, but then it blew me away. Sent me to outer space, just as the cover promises. The sound was so special, futuristic and fresh and the songs was, they are phenomenal. Very musical, funky, unique, topped by good messages and lyrics. It inspired my teenager life in a German village by giving me the feeling of something bigger out there. A bright future was shining. Electronic beats and sequences, lush synths, pitched voices, background singers, breakdancers, comic cover, space uniforms – otherworldly funky stuff. Exactly my thing. To this day. Thanks Newcleus for this bomb!"