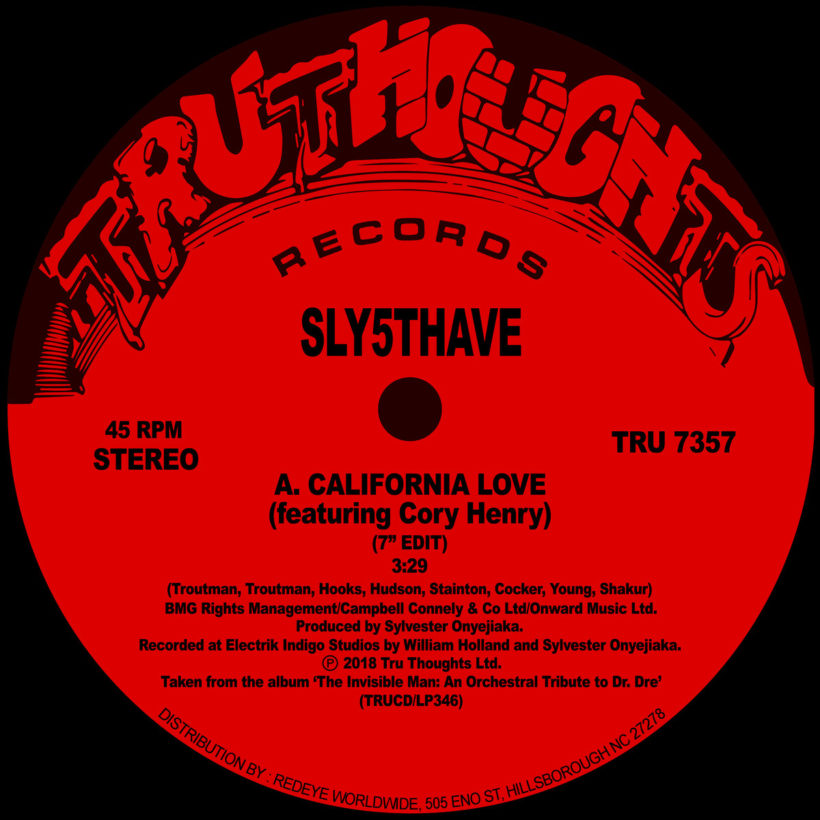 California Love/The Shiznit
Sly5thAve
Released: 5 Oct 2018

Label: Tru Thoughts

"California Love (featuring Cory Henry) [7" EDIT]" / "Shiznit" is the 7" single from multi-instrumentalist Sly5thAve's 'The Invisible Man: An Orchestral Tribute To Dr. Dre' LP. In this instalment, a rework of Dre's notorious "California Love" is paired with Snoop Dogg's timeless "Shiznit".

The A-Side leads with Dre's "California Love". Combining the character of the original with the G Funk sound that dominates the West Coast hip hop scene, Sly5thAve's arrangement of "California Love" unites the realms of orchestral and hip hop music in this welcome outing. He explains: "One of my favorite things about arranging hip-hop/pop music for an orchestra is the opportunity to build up and take the composition through different worlds that are not completely unrelated but also not readily apparent." Under his direction, the undeniably smooth arrangements amplify the lessons in Dre's music which are held at their core.

The B-Side holds a cover of Snoop Dogg's "Shiznit". Championing an iconic bassline, Sly5thAve's arrangement illuminates a suspense-filled horn section, sidling up against a smooth flute and Moog counterpoint before a cosmic string-addled vibrato takes control. In this recording, Sly5thAve calls on highly respected synth player Jesse Fischer.