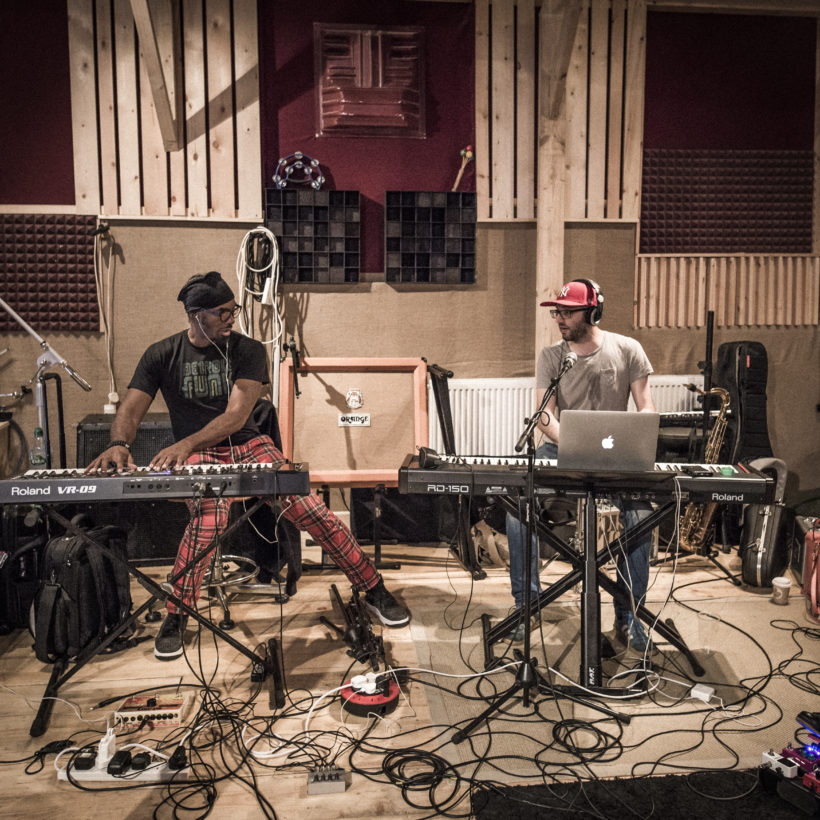 A Labour of Love: How Zed Bias met Pieces of a Man
The story behind "Nothing To Lose"

How legendary producer Zed Bias came to meet Tru Thoughts newest act, an electro-soul powerhouse called: Pieces of a Man, and produce one of Zed Bias's "favourite ever tracks", featuring Detroit-veteran Amp Fiddler, one-half of Children of Zeus: Tyler Daley, X-Factor semi-finalist: Misha B and many more.

It's a Spring day in Manchester, and Dave Jones aka Zed Bias/Maddslinky has just finished recording his ninth full-length album titled 'Different Response' on Exit Records. The artwork for the release is a beautiful watercolour, painted by an old school friend called Zachary Freshwater. Delicately imported over from Perth, Australia, Zed Bias first met David aka DK from Pieces of a Man, while using his photography studio to digitise the painting, in order to preserve the artwork in case it got damaged.

As it turned out, David was familiar with Zed Bias's work as Maddslinky, having DJ'd his songs across Manchester — in particular — releases on Tru Thoughts which he discovered due to Benji B's Deviation show on BBC 1Xtra. While chatting about the painting and project, the beginning of a creative collaboration was ignited. DK showed Zed Bias footage of Pieces of a Man performing. Loving what he heard, Zed Bias invited DK to come to his new studio in Salford with the full band.

A few days later DK (beats), Mark (guitar), Tolu (vocals & talkbox) and Pils (MD, keys, horns, and songwriting) came to the studio for an evening of musical exploration. It wasn't long until Pils told Zed Bias that he was planning on recording a demo with Pieces of a Man in the coming weeks.

"I immediately offered my studio as the place to do this. I set the band up to record with my friend and awesome engineer, Christophe Bride. Once I heard the recordings, I was fully on board. I then spent the best part of a year getting the album recorded and produced. A real labour of love." Zed Bias explains.

The hook for "Nothing To Lose" was written on the tram home after Pieces of a Man attended a solidarity vigil with Manchester's LGBT community, marking the horrific mass shooting in a gay nightclub in Florida: "I was struck visually with how people held up their phone flashlights despite being vulnerable themselves" explains lead singer Illya. Lyrically and thematically the song encompasses ideas from victims of prejudice, such as the shooting of Trayvon Martin, a black teenager who was a target because he was black and had his hood up and the broader Black Lives Matter movement.

A call to unity unifies the song as the lyrics "stay awake" reference to the seismic political outcomes happening overnight, such as the result of the EU referendum, Trump's journey to The White House and the outcome of political apathy. "The verse really pick up on the idea that we have nothing to lose except our identity and passion, and that we should have a loose grip on the material wealth that surrounds us". 

Recreating the choir from the original demo version of "Nothing To Lose", Zed Bias curated a pallet of individual artists to come into the studio that day, adding their own touch to the track with phenomenal. "The main recording session for this track was incredible, while I was in the control room with Christophe Bridge and Zed Bias, an amazing wealth of individual talent converged as one in the live room" recounts Illya.

"Andrew and Elouise Bridge are true Manchester veteran gospel and R&B singers. Misha B, known for nearly winning X Factor years ago, is an amazing vocal talent. Tyler Daley, one-half of Children of Zeus, sings like a UK Raphael Saadiq. Harleighblu is a UK neo-soul legend in her own right. Prima is singer-songwriter whose part of a new wave of amazing soul talent in Manchester; her runs and ad-libs are all over this song." Zed Bias lists off.

During the final touches to the LP, Zed Bias had Detroiter and exceptional vocalist Amp Fiddler staying in Salford recording with him. Fiddler agreed to join an eight-person choir to record "Nothing To Lose": "Amp Fiddler, the man who gave J Dilla the musical bring in, was a constant spiritual presence in the room". Amp connected on the track and was able to channel some of the grief from the loss of his son into his performance, which was described by everyone in the room as a "genuinely moving experience".