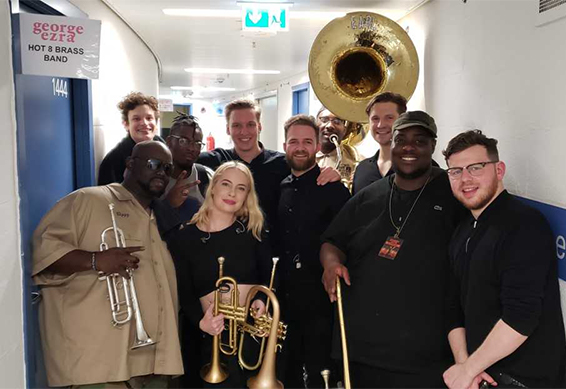 Hot 8 Brass Band support George Ezra on tour
After taking to the stage together at the BRIT awards in February, Hot 8 Brass Band were invited on the European leg of George Ezra's tour this May. Performing to thousands across the continent, audiences previously unfamiliar to Hot 8's music were soon moving along to all their hits. Watch the tour diary here – look out for a glimpse of the Hot 8/George Ezra rendition of "Shotgun" or you can watch their original BRIT performance.

Though from different genres and sides of the world, the infectious optimism that both Ezra and Hot 8 are known for made for a great live experience. Reviews of the tour mentioned "happy faces wherever you looked" and a "utopia found…in delighted faces".

Ezra himself facilitated the musical relationship, being a long time fan of Hot 8 Brass Band. His genuine enthusiasm for their New Orleans sound meant Hot 8 were now being heard by 8000 strong crowds, reaching new audiences and making new fans along the way. The band said, "We want to give big shout out to our man George Ezra, his band and all techs. We had amazing time, great memories and made solid friendships."

Continuing on with their incredible year, Hot 8 Brass Band are now set to embark on their own European tour after a brief pit stop back in New Orleans. You can buy your tickets here. Their most recent release for Record Store Day "Working Together EP" is also now available for streaming and digital download with limited copies still available on transparent blue vinyl.