International Women's Day: MELONYX Interview
The campaign theme for International Women's Day 2022 is #BreakTheBias. Whether deliberate or unconscious, bias makes it difficult for women to move ahead. Knowing that bias exists isn't enough, action is needed to level the playing field. The mission encourages us all to call out gender bias, discrimination and stereotyping in all aspects of life, from women's health to women creatives. 
With that in mind, we interviewed Nottingham-based, female soul duo MELONYX, who released their debut EP 'Black Elixir' last year after signing to Tru Thoughts. Georgia Copeland and Nadia Latoya are firm friends who united through the creative arts and are at the early stages of their music careers, which has already seen them garner support from BBC Music Introducing Nottingham, DJ Ace (BBC 1Xtra), Tony Minvielle & China Moses (Jazz FM), Bandcamp, FIP, Aaron Byrd (KCRW), Wordplay, Stereofox, Soul Bounce and IGGY MAG. The title EP track "Black Elixir" recently featured in Season 1, Episode 3 of the new series of 'Bel Air' on Peacock. With their energy, warmth and determination, this duo look unstoppable.
Look out for new music and remixes coming soon and in the meantime, get a feel for their vibe by listening to this playlist of Georgia and Nadia's favourite songs and influential artists, specially curated by MELONYX for IWD.
As part of IWD, MELONYX performed at YOUnique Festival on 5th March at the New Art Exchange, Nottingham. You can also catch them performing live at one of the gigs below:
9th March – BBC Introducing with Dean Jackson @ Metronome, Nottingham
19th March – Kemet Radio Anniversary Concert @ Playhouse, Nottingham
14th May – Are You Ready? with Mikey Spice @ The Legacy Centre, Birmingham
You two have a very close bond. How did you meet and start making music together? 
We met in Nottingham as teenagers while both performing at a local community arts centre. We stayed connected through the years and over time just grew closer as friends, especially when we both started gigging in our own right as we would always go to each other's gigs to support and continually offer each other encouragement. After both of us went through a little period of doubt and a hiatus from gigging that support turned into us literally backing each other up on stage providing backing vocals and arranging joint covers, which amplified the desire we already had to produce music together.
What's been happening since the release of your debut EP 'Black Elixir' on Tru Thoughts?
We're grateful to have had some great support for our EP Black Elixir and off the back of this we've had the good fortune of getting some really good gigging opportunities such as Metrofest, Jazz Cafe and supporting Children of Zeus on the Nottingham leg of their tour. We also sold out our first hometown headline gig and we kicked off this year performing Ronnie Herel's Big R&B Show Live at the end of January. We've also been growing our audience for the weekly radio show that we host on 97.5 Kemet FM which has been a lot of fun. Most importantly though, we've been focusing on making music for our next project which is well underway and has been an exciting process.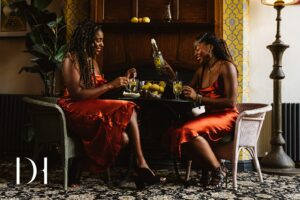 What are you most proud of in your music career so far?
To be honest we'd probably say we're most proud of ourselves and our team, Joe Buhdha and the Can't Stop Won't Stop camp! We've had so many affirming moments along our journey so far. We had absolutely no expectations before releasing, so to be received so well by people we highly respect has been a blessing. Having the EP signed by Tru Thoughts was definitely a career highlight for us and we're really grateful for the work the TT team has put into pushing our music. Recently, the lead track of our EP – Black Elixir got synced in Bel Air – the reimagining of iconic black sitcom The Fresh Prince of Bel Air – definitely a highlight for us and one we feel was definitely made possible thanks to the efforts of the team. It feels good to be with a reputable label among such a high calibre roster of artists.
Who are your female influences, in music or otherwise?
Our number one female influences would definitely be our mums! Not only because they are superwomen in our eyes, but because they are responsible for the foundations of our taste in music too. We also have to mention the women who are our family and friends – we come from a quality stock of women who have played a role in shaping us. Musically, if you know us then you already know Lauryn Hill is our ultimate shared influence, closely followed by Erykah Badu. But honestly there are so many women across the genres we're inspired by, that the list could be endless.
Who is your favourite female artist at the moment?  
It's hard to narrow it down to one favourite – there are so many quality women artists we are feeling right now but a few top names would be: Ego Ella May, Cleo Sol, Jazmine Sullivan and Ari Lennox.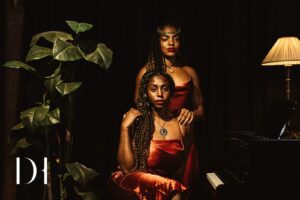 You celebrate Black women in your music. Do you think progress is being made in attitudes towards Black women in music and society?
Yes, we do think progress is being made and we appreciate and are grateful to the people who have played roles big or small in pushing things forward for those behind them. However, there's still a way to go. It's definitely something we're passionate about seeing a change in. We always aim to use our voice and platform to speak on it and hope to continue to find ourselves in positions where we can be a part of this change.
Who has helped you develop your music career?
As aspiring artists coming up on the local Nottingham music scene there's been a number of people who have contributed to our development. Some women we would highlight who have been instrumental along the earlier stages of our career would be: Rastarella (Cultural Vibrations), Saziso Phiri (Anti Gallery) and Parisa East (Acoustickle). When we came together to support each other in our individual music journeys, we inevitably contributed to each other's musical development. During this process we began to develop our sound as MELONYX and continue to do so through working collaboratively. Working with Joe Buhdha has also played a big part in this process. He's also very much been a mentor for us where the industry is concerned, and he is someone we can consistently turn to for guidance and advice. He was the one who put us in touch with Terri Walker who we also consider a mentor to us. His willingness to thread us into his network has been invaluable. We would also say signing to Tru Thoughts has had a significant impact on the development of our career. It feels very much like an open-door policy where we're able to ask questions and seek advice on the business side of things – all of which has been a valuable learning experience.
What's the biggest challenge you've overcome?

Overcoming being ruled by self-doubt and fear of failure. We recognise that each day we need to make a conscious decision not to let fear dictate our choices and our expression because we see how much things move forward for us once we start to trust ourselves and push against that tendency to operate from a place of fear.

If you could offer some advice to women starting out in the music industry, what would it be?

Be persistent and consistent, be authentic, surround yourself with a good team of people and don't compare yourself to others. Above all else, work hard at cultivating self-belief and trusting your own voice because only you know what you're capable of and your vision.

What needs to improve for women in live music?

We think having more women represented in all the respective roles from musicians to sound technicians to promoters and beyond would go a long way in improving live music for women. There's just really not enough of us and it's a real shame. We can only speak for ourselves, but we feel one definite way to address the issues would be to have more women (who have experienced such issues) in roles where they can make a direct impact. Women often speak about being on the receiving end of even base level problems such as lack of communication and mutual respect. In our experience, because of this understanding we have found women to be more mindful of this when we have had the pleasure of working with them in these areas. We look forward to it being more of a regular occurrence in the future.

What are your music goals for the future?

Keep making music that resonates, bigger shows, better plays – just bigger and better basically! We want longevity and to firmly cement ourselves as credible artists.