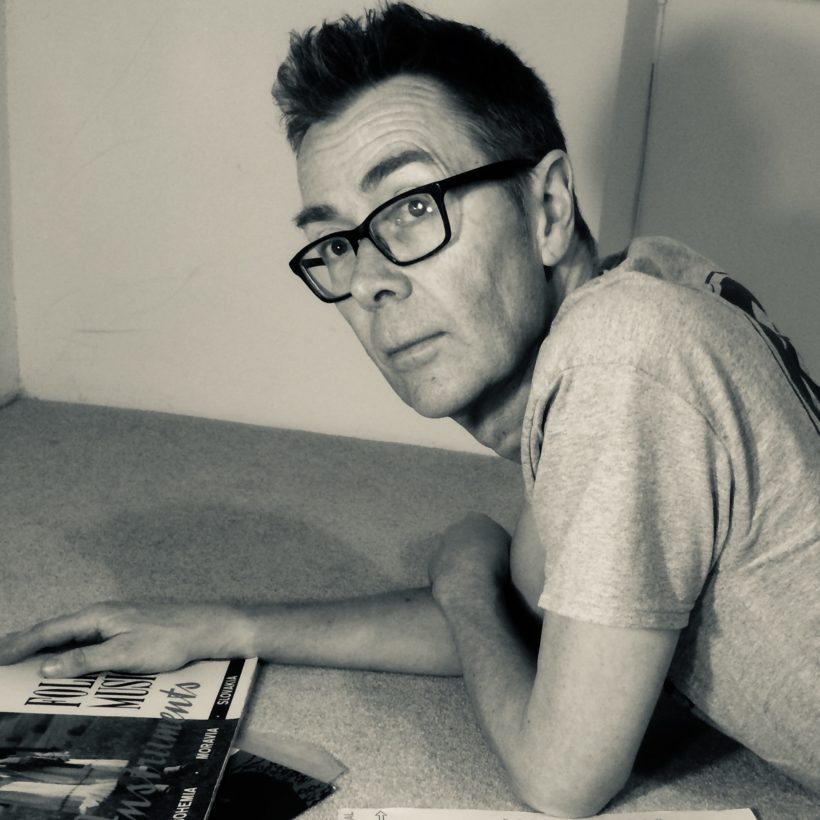 Record Store Day Recommendations With Magic Drum Orchestra
We spoke to Glyn Bush of Magic Drum Orchestra about all things vinyl for Record Store Day, gaining some insight in to changes in the industry throughout his life. Led by Glyn, Magic Drum Orchestra are an impressive 20-piece percussion group, well know for giving new life to well known tracks. Their latest remix is included in the Record Store Day 2019 release of The Hot 8 Brass Band's "Working Together EP".

What are you releasing for RSD 2019 – how did your track on "Working Together" EP come about?

My Magic Drum Orchestra remix of Hot 8 Brass Band "On the Spot". I'd been hoping to do a remix of Hot 8 for ages and so jumped at the chance when the label asked me to have a go.

It was a challenge to put together as the band play live in the studio without a click track, so there was a lot of spillage of sound between instrument tracks and a fair bit of manipulation to get the elements in time with my beats. What really excited me about the sounds I was sent was the way the original vocals went with the drum groove I was building. There was a complete track of the Hot 8 guys vibing, shouting encouragement to each other, chanting and eventually singing here and there.

Once I'd got a basic idea of the MDO groove I just let their whole vocal track play out and added some touches of echo and delay and that really formed the basis of the remix. I deliberately held the main brass part back till almost the end of the song so that would bring the track to a crescendo.

Which RSD 2019 releases will you be picking up?

I usually just head to the nearest shop and see what they have – in recent years I've picked up some great stuff by The Residents, Luke Vibert, Stereolab, The Oh-Sees and was able to re-buy my long-lost first Fall 7".

What was the first record you ever bought?

Way back in the mists of time I'm pretty sure it was either 'In the Court of the Crimson King' or Led Zep 2. Both became part of my musical DNA – especially the drumming.

How has the record industry shifted throughout your life? In your experience as both a musician and a fan?

It's changed hugely and yet in many ways remained the same – when I started out it was all about hoping to get "spotted" by a major label and signed up and I think that still applies to many up and coming musicians. The difference is that there was no internet when I was young so now there are so many more ways to get your music out there rather than doing gigs in pubs and sending out cassettes. I've noticed how the standard of musicianship has got better and better – especially because people can literally learn from their heroes by studying clips on YouTube.

As a fan I just love the way there are so many reissues and releases of amazing music that has never been available before, with so many vinyl diggers and music lovers exposing the mad skills of music creators from all over the world.

Why is it important to continue to support independent record shops? Do you think records would or could ever be replaced?

There was a long period in the 90s when CDs seemed to have taken over and vinyl was in decline. Shops were closing and only diehard addicts seemed to care about records for quite a while. I even stopped buying records for a few years in the 00s. But there really is no substitute for black magic plastic and anyone who loves music should support the indie shops and enjoy their favourite music on vinyl.

If you were to choose five ultimate records, which would they be and why?

You could have asked me this question at different points in my life and received a completely different answer! So at the moment I'm quite consumed by library music, hence some of these selections;

'Feelings' by Jay Richford and Gary Stevan (Schema). Incredible album from 1975 and just a tiny fraction of the total output of Italian library music and film scores from the 70s.

'Rhythmes Contemporains' by Janko Nilovic (Montparnasse 2000). Made in 1974 but astonishingly fresh – jazz big band workouts, high octane choral parts, just wonderful writing. A desert island disc for sure.

'TV Sound & Image' – two volumes of some of the best British production music from the 60s-80s, on the ever-reliable Soul Jazz label.

'Con Todo el Mundo' by Khruangbin (Night Time Stories) – psychedelic meets Turkish guitar stylings over solid grooves, what's not to like?

'In A Silent Way' by Miles Davis (CBS). From 1969, always my favourite Miles album.

Which records get dusted off when the sun starts to come out?

Anything by Jackie Mittoo (reggae keyboard king); Jimi Tenor's Quantum Connection album; Afrodisiac Sound System; 'Places & Spaces' by Donald Byrd; Sir Victor Uwaifo; Khruangbin; "Me & Me Princess" by Lightning Head; "Like Sugar" by Chaka Khan.

Which record stores have played an important role in your life, in Brighton or elsewhere?

Rare Kind is the go-to shop for me. I always find interesting stuff in there and you can just spend hours browsing different genres. I've found some cool stuff in Snooper's Paradise but you need loads of time to trawl. Mr Bongo is great but it's difficult to browse through their packed crates! My main place to shop is Discogs these days but you can't beat having a proper dig and smelling the vinyl.