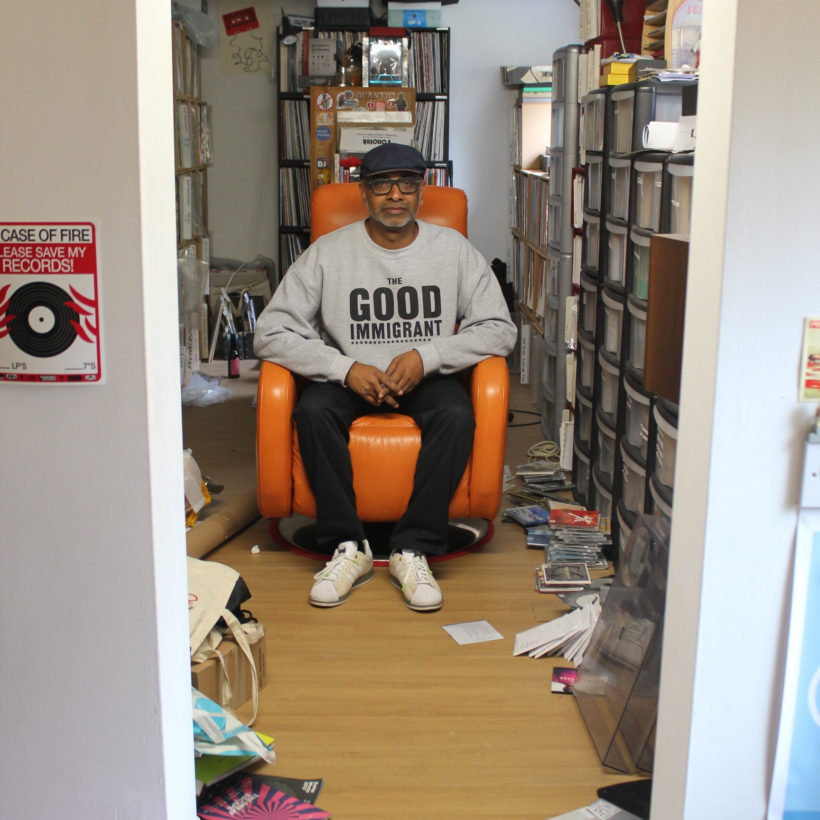 Record Store Day Recommendations With Robert Luis
In the run up to Record Store Day (13th April, 2019) we spoke to A&R, founder and co-director of Tru Thoughts Robert Luis to gain insight in to his record collection and recommendations. With Tru Thoughts now in its 20th year, Luis' eclectic taste remains central to the label's success. You can check if RSD releases are available in your area via the official Record Store Day site here.

Which RSD 2019 releases will you be picking up?

Anderson Paak, The Specials, Pete Rock. I am curious about the Office Space soundtrack and Salvador Dali record.

What was the first record you ever bought?

An early Hip Hop 12" by the B-Boys called "Rock The House". I had seen people breakdance to it as a young child and then saw the record in a local record shop. 'Kings Of the Wild Frontier LP' by Adam & the Ants was bought around the same time.

Why is it important to continue to support independent record shops? Do you think records would or could ever be replaced?

The knowledge in good record shops is from real people. Algorithms work to an extent but they always suggest something terrible! Whereas good record shops with real humans understand the nuances of musical tastes in a way no computer programme can. Also getting recommended music by people who love music too is always going to give you a better quality record collection than a pre-programmed computer.

How has the record industry shifted throughout your life? Not only in terms of your experience as founder of Tru Thoughts, but also as a DJ and as a fan?

The accessibility of music now is a key factor. You can find and listen to music a lot more quickly. The fact that the playing field has levelled is definitely better for artists as a whole but the disadvantage is trying to be heard. There is no barrier to getting your music up on streaming services/download stores so it can sometimes be harder to find the good quality. But this is better than labels and radio controlling what can be heard or not and it gives a chance to people who do not have huge financial backing to get heard.

If you were to choose five ultimate records from your collection, which would they be and why?

As I write this today I would choose;

Fatima – 'And Yet It's All Love' (I have been enjoying this album so much since it got released)

The Specials – "Ghost Town" (Great music with a message and the fact it got to Number 1 in the pop charts has always been inspiring)

Roots Manuva – "Witness" (This sounded so "out there" but also so good when I first heard it and a great example of an artist pursuing their own path)

Tom & Jerry – "Maximum Style" (Taking the cut and paste style into programmed Jungle music in a way that was very ahead of its time as it still sounds good today).

Wiley – "Gangsters" (My favourite Wiley tune because the lyrics are so honest and witty and he really transports you into what was going on in his world at the time)

Which records get dusted off when the sun starts to come out?

A Tribe Called Quest – Various albums

Sampology – 'Middle Name Dance Tracks'

Erykah Badu – 'Baduizm'

Fried Funk Food – "Turn On, Tune In Find Joy"

Calibre – Various tracks

Thundercat – 'Drunk'

Which record stores have played an important role in your life, Brighton or elsewhere?

Currently in Brighton Rare Kind and Resident. Back in the days in Brighton it was Inner Rhythm and Across The Tracks. In London the Mr Bongo record shop in the 90s and early 00s was a fountain of knowledge for me for getting new music and old music. Kev Beadle and Huw Bowles always recommended me obscure but great tunes. Of course it is great to see Mr Bongo have a shop in Brighton now too. If Music was also a place I used to get a lot of great music from in  the 00s (they are still going too).