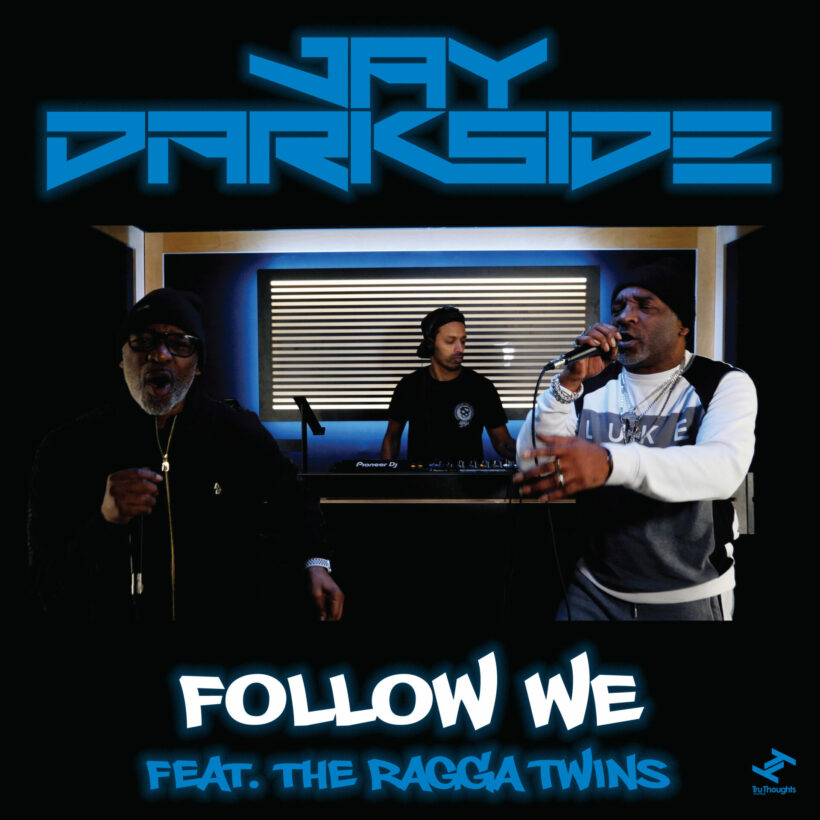 Follow We feat. The Ragga Twins
Jay Darkside
Released: 12 Apr 2022

Label: Tru Thoughts

Up-and-coming drum & bass producer and DJ Jay Darkside – links with legendary Hackney reggae & jungle MC duo The Ragga Twins on "Follow We". The new single is a breakbeat/D'n'B edit of the genre-crossing, reggae rooted collab 'Wrongtom Meets The Ragga Twins' tune "Follow Fashion", released on Tru Thoughts.

Having upfront club and radio support from jungle pioneer Nicky Blackmarket, "Follow We" combines The Ragga Twins' iconic lyrical energy with jungle/rave elements to create a playful-catchy homage to the classic reggae-jungle sound. Mastered by the king of D'n'B mastering Beau Thomas, the music video for "Follow We" sees Jay Darkside linking up with The Ragga Twins in the studio for a high-quality sound-system showdown.

"The Ragga Twins have been a big influence on me over the years. I remember hearing 'Spliffhead' on TV back in the early 90s when I was 14", Jay explains. "I loved their vocal delivery on that Dance Energy performance and the dance moves from the audience had me captivated!"

Influenced by the diverse sounds from early rave and jungle (The KLF, The Prodigy, Goldie) through to breakbeat and D'n'B, Jay Darkside has DJ'd at legendary clubs including Ministry Of Sound, Gatecrasher (Heaven), and Brixton Academy as well as curating mixes for brands like Superdry and Concrete Junglist, and hosting radio shows on pirate/online stations Vision FM, Upfront FM and Dynamic Breaks. He has also recently won Viper Recordings 'Underneath The Shadows' DJ Comp. Supported by DJ Mag (Top 10 Charts), Judge Jules (BBC Radio 1) and Taxman (Playaz Recordings), Jay Darkside has had releases on Sinister Recordings and the Unstable Label.

The Ragga Twins need little introduction; veteran reggae and jungle MC duo consisting of Deman Rocker and Flinty Badman. Originating from London's UNITY sound system, the pair are regarded as pioneers of the scene, hailed by All Music as a "crucial cogs in the development of UK dance music". The Ragga Twins blend the sounds of jungle, D&B and garage that takes you back to the 80s reggae and dancehall landscape where they started out. Still performing week in week out at clubs, festivals and parties worldwide, The Ragga Twins have made waves in the EDM scene collaborating with the likes of Aquasky and Skrillex.