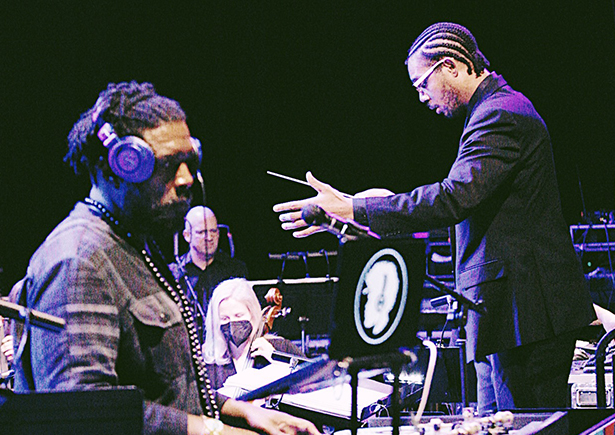 Sly5thAve conducts at Questlove's Hip Hop Brunch
On Saturday Sly5thAve accompanied Questlove, Stro Elliot and the Dallas Symphony Orchestra for a collaborative performance 'Questlove's Hip Hop Brunch', with Sly5thAve conducting the orchestra.
The immersive brunch featured visuals by Dallas-based artists Jeremy Biggers and JM Rizzi presented as part of a live visual journey through hip-hop described as "More than lyrics. More than music. More than a show … a journey of sound, soul, and art that moves the heart – an experience done like Dallas has never seen before"
This is how Dallas publication Central Track described the 2 hour set:  "The Factory in Deep Ellum turned into more than just a concert venue this weekend with artwork projected across the walls and Questlove and the Dallas Symphony Orchestra on the stage. Catered chicken 'n' waffle sliders, shrimp 'n' grits and soul food tacos brought attendees to assemble in a line formation to satisfy their brunch needs before watching an old school hip hop set. The event also benefitted the Dallas Black Dance Theatre and Big Thought, a nonprofit that strives to close the opportunity gap for marginalized youth. Questlove's Hip Hop Brunch Saturday afternoon was a Deep Ellum rendition of a symphonic journey through some '80s hip hop classics…"
The photos capturing the event were taken by Rico DeLeon @RICOstudios
Sly5thAve's latest album 'Agua de Jamaica', is a collaborative project with pianist and composer Roberto Verástegui – more info HERE  The LP is built from a passionate and comprehensive understanding of Jazz, a love of Hip Hop and Mexico City's ever-vibrant artistic culture, Latin flavours, and the African roots from which these sounds grew; "Loose, vibey, soulful and a-buzz with life ⭐️ ⭐️ ⭐️ ⭐️" Mojo Magazine.