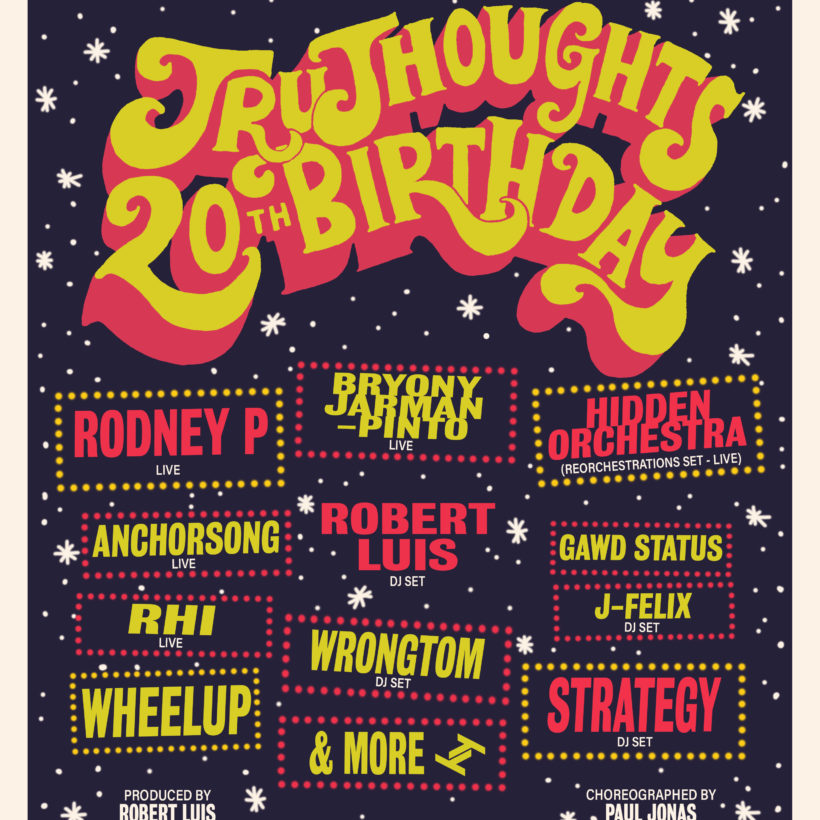 Tru Thoughts 20th Birthday at Patterns
This Sunday, 1st Sept, is the 20th anniversary of the first ever Tru Thoughts release.
"Alarming Frequency" by Steady (aka Dan Lambert and Tom Guest) bears the catalogue number TRU 001 and featured four tracks pressed on 12″ vinyl – the title track, an instrumental version, plus "Tricknology" and "Train Diligently"

We will be celebrating our birthday with a two floor takeover of Patterns (Brighton) in November to celebrate those twenty years with a forward looking line-up of new and current acts hosted by label co-owner, A&R and Unfold Radio presenter Robert Luis.

Following previous birthdays held at London's Roundhouse, Brighton Dome and KOKO London, we have gone back to our club roots and hometown for our 20th birthday party. The line-up will feature a mix of quality DJs, MCs and live performances from across the roster;

Anchorsong (Live)
Bryony Jarman-Pinto (Live)
Gawd Status (Live)
Hidden Orchestra Reorchestrations Set (Live)
J-Felix (DJ Set)
Rhi (Live)
Robert Luis
Rodney P (Live)
Strategy (DJ Set)
WheelUP
Wrongtom

Tickets are available now via Dice.