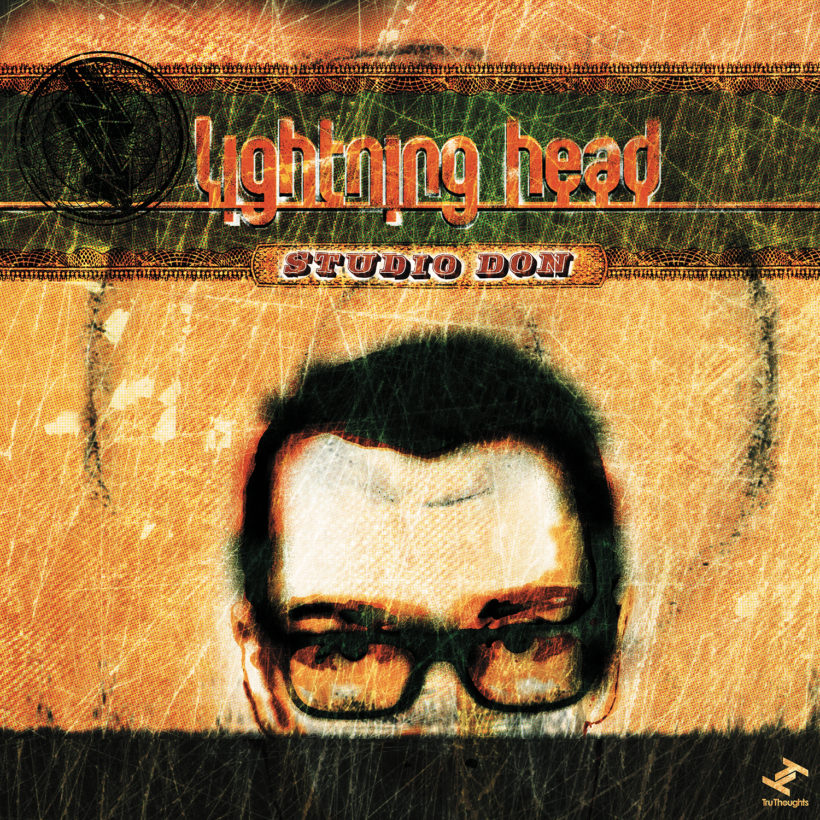 Released: 31 May 2019

Label: Tru Thoughts

'Studio Don' is the pivotal first solo album from Lightning Head aka Glyn "Bigga" Bush, former "midi maestro" of Rockers Hi Fi and current spearhead of Magic Drum Orchestra. Originally released on the fledgling Best Seven imprint, (part of the Berlin-based Sonar Kollektiv label family, founded by DJ Daniel W. Best) in 2002; 'Studio Don' fuses batucada rhythms, Latin piano lines, funk riffs, reggae off-beats, space echoed bass dub, to create a sound-pallet that garnered support from Gilles Peterson, Mr Scruff, Kruder and Dorfmeister, Ross Allen, Ashley Beedle and many more.

Now re-issued on Tru Thoughts, 'Studio Don' is an album that has stood the test of time: "The idea was to imagine a cross-pollination of music from Cuba and Jamaica (which are only about 90 miles apart)", Glyn explains. But the musical outcome is more of a straight line starting in New Orleans going down through Havana, finishing up in Kingston: "Straight outta Kinky Funkston". Peppered with vigorous dancehall rhythms, 'Studio Don' amalgamates a wide pallet of genres to create a sonic output that still sounds fresh today: "I noticed certain similarities and overlaps in musical styles and started experimenting with putting dub basslines with Latin rhythms, or having a reggae guitar skank played on percussion."

Lightning Head was initiated as a request from Sonar Kollektiv's Daniel Best, asking Glyn to write a 7" in a funky dancehall-break style. This catalysed the start of Lightning Head's musical journey, inspiring Glyn to write "Me & Me Princess" using a Singing Bird vocal sample that he found on DAT tape. "I wanted to keep it stripped, raw, funky and have lots of clavinet and dirty bass." As Glyn continued to work on the record, more and more influences were transported onto the album, such as the rich and idiosyncratic sounds of samba percussion (despite being a couple of years before Magic Drum Orchestra was formed).

Glyn managed to contact vocalist Singing Bird who was based in Vienna at the time. Together they laid down a series of vocals, one which evolved into the party-anthem "Superfunky Bird": "Do the funkybird" tunes Singing Bird. But what is the funkybird? "I always pictured it as a dance-step with butt jutting firmly behind, arms bent at the elbow and flapping" Glyn demonstrates. "E.V.A" is a genius cover of avant-electronicist Jean-Jacques Perrey, created by building a digital steel band on the then state-of-the-art Akai S3000 sampler, recording the sound of pans directly from Glyn's kid's school steel orchestra. This self-curated sound pack would later feature on "Salsation", Lightning Head's take on the classic soundtrack from Saturday Night Fever.

While "Message Beats" is an afro-house groove, created as a DJ tool, stripping out everything but the percussion from "Message To The Tribes", where in the word of the artist he "went all batucada on it". "Second Line Stomp" demonstrates how close New Orleans is to Jamaica, creating a dubby-dancehall conqueror, evocative of Rockers Hi Fi. Also included on the re-release, are two more Lightning Head re-imaginations, such as Bigga's take on Stephen Marley's beatbox classic "Traffic Jam", in which trombone and fuzz guitars lock horns over an irresistible breakbeat. And from further back in time, a Latin-reggae version of 2001 (A Space Odyssey) theme, complete with Latino-peps over a bassline that would have had "skinhead moon stomping and a gorgeous piano montuno echoing out into space".

Glyn was also influenced at the time by Latin and salsa beats such as Machito, Ray Barretto and St. Vincent Latinaires, the New Orleans funk of The Meters, Eddie Bo and all that Saturday Night Fish Fry stuff, and of course classic 70s Jamaican musicians, such as Jackie Mittoo, Byron Lee & The Dragonaires and dubmeister King Tubby. The album title 'Studio Don' is a tongue-in-cheek homage to the legendary 'Studio One' in Kingston, a great source of inspiration for the production (where the musicians would work an 8 hour day laying down rhythms track like a factory production house), while the moniker 'Lightning Head' was something preached from the mouth of Lee Scratch Perry in an interview.

With 'Studio Don' Glyn created an album where you can travel from Kingston, Jamaica to Havana, Cuba, the Bronx in New York to Brixton, London, from the original funk sound of New Orleans, to the open spaces of Dorset, England – where the album was put together. But what's the formula for creating a global masterpiece, without a single sample? "My thing has always been to really study music – whatever the genre, learn how to play it and try to reproduce it faithfully whilst still making it my own".