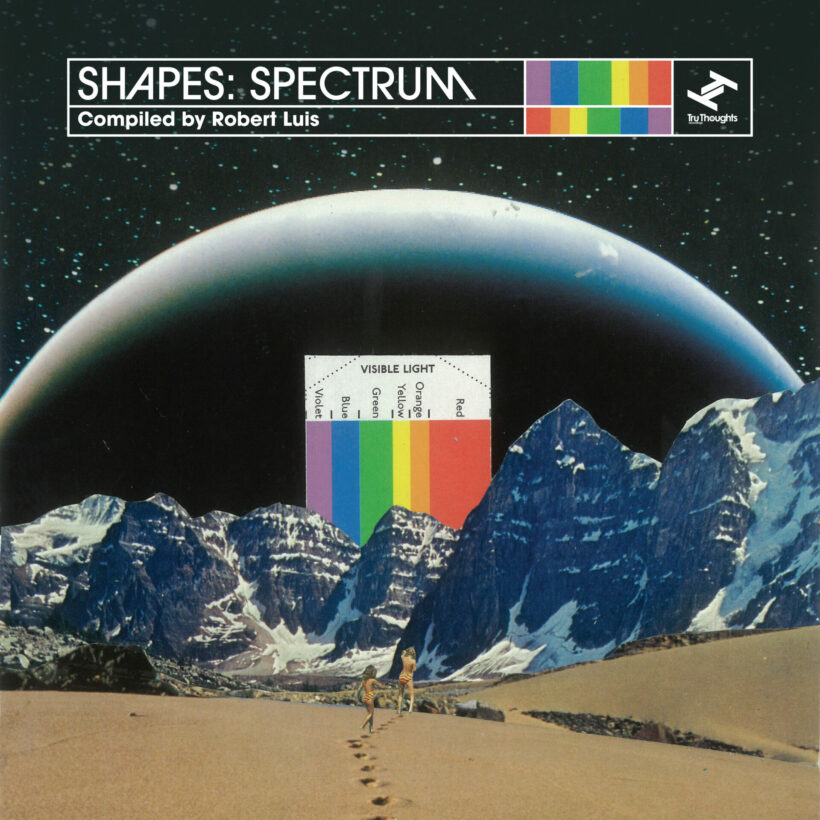 Released: 15 Jul 2022

Label: Tru Thoughts

'Shapes: Spectrum' is the latest addition to the Tru Thoughts series of essential label compilations curated by A&R, label founder and DJ Robert Luis. After 23 years of independently releasing music, the 'Shapes' LPs celebrate the best of our wide-ranging and international roster; with established acts such as Quantic & Nidia Góngora, Moonchild, Alice Russell, Anchorsong and Rhi and newer signings including Rebecca Vasmant, Ebi Soda, Hemai, MELONYX, Anushka, Crafty 893 and Tiawa. The 35 track digital album includes recent releases, inspired remixes and an unreleased exclusive from Think Tonk.

Following the digital LP, the 'Shapes: Spectrum' double vinyl release (Friday 14th October) features essential album tracks and innovative reworks all exclusively on vinyl for the first time. The release will be a limited edition, hand-numbered run of 500 with special artwork from Solar Collage plus a download card with the full 'Shapes: Spectrum' digital album.

"I always enjoy putting together the annual Shapes compilation, as it allows me to pause and celebrate our recent releases as well as highlight the musical direction Tru Thoughts is going in. The label has always had a mission to be eclectic and represent a variety of genres and artists; with the more established artists being placed alongside newer acts and remixes from artists I am into. As usual, if you like a track on the compilation, it is always worth checking more music from that artist." – Robert Luis

Honouring this sentiment is Quantic's pioneering production, met by Colombian folklore singer-songwriter Nidia Góngora who sings of souls lost at sea found by fishermen on "Macumba de Marea". Sly5thAve and Roberto Verástegui transport us to an ever-vibrant Mexico City, where they recorded "El Momento", a track brimming with Jazzy Latin flavours, Hip-Hop touches and African currents. Stepping into the mix are the majestic duo of Moroccan Gnawa-master (maâlem) Rabii Harnoune and Frankfurt electronic producer V.B.Kühl, offering up funky modern club sounds with yourboykiran and Chandé's take on "Aisha".

Sitting alongside these global sounds are reworkings; Sefi Zisling infuses Alice Russell's "Heartbreaker" with Afro-Jazz Funk and accomplished pianist and producer Kiefer transforms "What You Wanted (Kiefer Remix)", taken from LA- based trio Moonchild's recent LP 'Starfruit'. MELONYX's "Energy" is given a DnB refresh by Zero T while Bruk Rogers (Zero T's alias) delivers a Latin meets West London, Broken Beat inspired remix of "Ujjayi" . Following on, Think Tonk brings us the previously unreleased, bass-driven powerhouse "Divine Elevation" – exclusively released for the first time on 'Shapes: Spectrum'.

Amongst the label's newer signings, the hard-jamming Brighton-based quintet Ebi Soda provide Jazz assault "Yoshi Orange", the debut of new material from the band. fika and Bambie make the Tru Thoughts introductions with their title track "Coffee & Clouds", rhapsodising over the feeling of ecstasy you get when you're with a particular person. Following the theme of pure joy, Rebecca Vasmant, who joined the Tru Thoughts family in 2021, shares "Dance Yourself Free feat. Emilie Boyd & Harry Weir" – "That beautiful moment when every person in the club is united by the music", Rebecca says "In that moment, we are all the same, we are all happy and we are all free. That's the Dance Yourself Free moment".

This year's selection is not short of dancefloor fillers with Gilles Peterson and Jean-Paul "Bluey" Maunick AKA STR4TA bringing their iconic Brit-funk style to Anushka's 'Bad Weather'. Broken beat pioneer Afronaut presents "How It Goes", previously described by The Observer as "A celebration of everything joyful, positive and inventive about British Music." Domu gives Nikitch & Kuna Maze's "The Leak" the club culture treatment and London-producer and DJ Tech Support dismantles Anchorsong's "Remedy" into hard-hitting industrial-chug.

The compilation includes "Serious Drug (Instrumental)" by Wildcookie, the timeless, boundary breaking imprint from Anthony Mills and Fredrik Lager AKA Freddie Cruger AKA Red Astaire, who has passed away in the time since the compilation was put together. We will continue the legacy of the late Fredrik Lager, an endlessly talented musician and dear friend who will be greatly missed. This tune was included on the physical release of 'Shapes: Spectrum' prior to his passing. He loved having his music on vinyl and we celebrate his memory with a tune that has rocked dancefloors and headphones across the world.