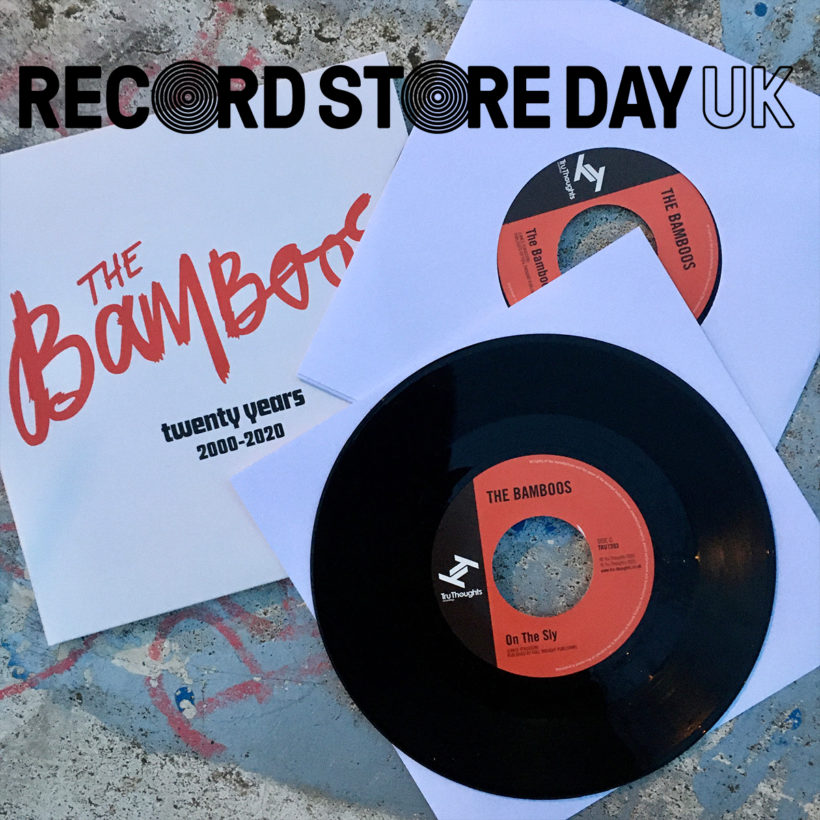 Twenty Years 2000-2020
The Bamboos
Released: 29 Aug 2020

Label: Tru Thoughts

Record Store Day 2020.

Celebrating 20 years of making music, Australia's The Bamboos have long established themselves as one of the leading soul bands on the planet, spearheading the underground 'deep funk' scene of the early 2000s, and have been crucial in progressing the sound forward ever since. Tru Thoughts marks this milestone with a collectors' gatefold double dinked 7" for Record Store Day, a compilation featuring some of the bands greatest moments on the label, four tracks that never had an original issue on the 7" format.

Led by guitarist and main songwriter/producer Lance Ferguson, The Bamboos have recorded nine studio albums, two live albums, twenty-seven singles, and performed countless incendiary shows; all while aiming forward with a genre-defying take on the music, shaking up what it means to be a soul band in 2020. The Bamboos have collaborated with the likes of Aloe Blacc, Lyrics Born, Alice Russell, Ty, Daniel Merriweather, J-Live, Urthboy, Teesy, Dan Sultan, Tim Rogers plus many more, incorporating the influences of funk, pop, hip-hop, rock, psych, indie and soundtrack music into their own unique sound.

Compiled on The Bamboos – "Twenty Years 2000-2020" are four songs that encapsulate their growth as one of the most beloved, cherished and respected soul/funk bands of the 21st century:

"I Don't Wanna Stop feat. Kylie Auldist", a standout hit taken from the band's second album 'Rawville'. Described as "arguably the best funk album of the modern era" by IDG Magazine, "I Don't Wanna Stop" is also the debut appearance of featured lead-vocalist Kylie Auldist on a Bamboos wax – that would later lead to her joining the band full time. "Kylie's first live performance with The Bamboos was at the celebrated Meredith Music Festival in Victoria, Australia" explains Lance, "we did the 4am set and people still talk to me about it to this day". Kylie was later signed up by Tru Thoughts as a solo artist after going on tour around Europe/UK with the Bamboos, which Lance produced all three records. "The Bamboos Theme" is the opening track on 'Rawville', an up-tempo instrumental track that has "a little bit of KPM/Alan Hawkshaw DNA". "On The Sly" is a relentlessly catchy ragga meets brass hook, taken from the bands fourth album '4'. The song is accompanied by a particularly audacious Heist-themed video with footage of the band playing at Melbourne's The Night Cat: "it's a venue where we got our starts as a 4-piece playing 3 x 45 minute sets of instrumental funk and soul back in 2000," Lance elaborates. "On The Sly" was also featured in the hit U.S. movie Crazy, Stupid, Love starring Steve Carell and Ryan Gosling. "You Ain't No Good" – also from '4' – is stuffed full of old school soul claps and smooth vocals, courtesy of King Merc… a figure perpetually shrouded in mystery. "No one has heard or seen from him since", Lance alludes.

Paying homage to their first self-funded 7" – "it's a very special format for me" Lance explains, The Bamboos – Twenty Years 2000-2020 is a gatefold 7" that is a once in a lifetime opportunity for The Bamboos hardcore fans, vinyl collectors, groovers, romantics, and everyone in between…so make sure that you are part of it this Record Store Day.