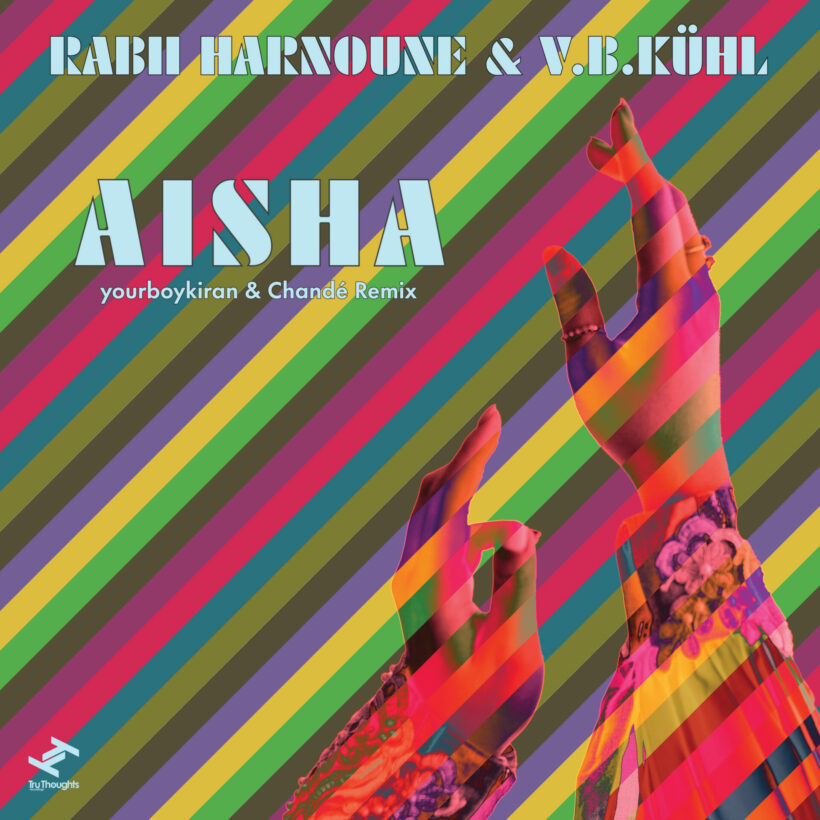 Released: 26 Apr 2022

Label: Tru Thoughts

"Aisha" is the new single from the majestic duo of Moroccan Gnawa-master (maâlem) Rabii Harnoune and Frankfurt electronic producer V.B.Kühl. The release also features a remix from "Pani Puri Pirates" and Daytimers affiliates yourboykiran & Chandé, who rework the original in the context of the club, adding in rhythmic and percussive flavours of UK Funky and Kuduro.

Blending traditional North African Gnawa music with funky modern club sounds "Aisha" has multitudes of meanings in Moroccan folklore culture. Translating to "she is living", 'Aisha' is also a mythological figure, as Rabii explains: "She is considered as a jinn, supernatural creatures in early pre-Islamic Arabian religious systems and later in Islamic mythology and theology. In Gnawa culture, 'Aisha' is considered to be one of the greatest women in history; the song is an ode to her strength and courageousness, while appreciation for her pursuit in supporting the oppressed and punishing the oppressor."

"Aisha" is the newest offering from the duo since their lauded debut album 'Gnawa Electric Laune', a fascinating cross-cultural record that won over the likes of Gilles Peterson (Winners 2020), Tom Ravenscroft (BBC 6Music), Songlines and many others, for its electric and otherworldly bridge from old to new.

On the remix side, yourboykiran (A&R for 4NC¥, an imprint founded by Pavan Mukhi of Foreign Beggars) and Chandé (broadcaster on Reprezent/Melodic Distractions) are both DJs, producers and cultural facilitators that form part of the team behind Daytimers, an iconic new collective that aims to celebrate South Asian artistry.

yourboykiran and Chandé are also spearheaders in the recent revival of the Asian Underground sound. Their track "Pani Puri Pirates" took the British underground electronic scene by storm last year and made up the wider Daytimers DT002 release, which was nominated for 'Best Compilation' for DJ Mag's 'Best Of British' 2021 awards and made countless other end of year lists. "Aisha" sees the duo teaming up again for another lightning in a bottle moment: "the chance for myself and yourboykiran to collaborate for the first time again since 'Pani Puri Pirates' and the Daytimers Compilation (DT002), whilst also having this rich source material of Rabii Harnoune & V.B Kühl's electronic interpretation of Moroccan Gnawa music and to do so for Tru Thoughts, definitely created a lot of anticipation and excitement for the both of us." Chandé explains.