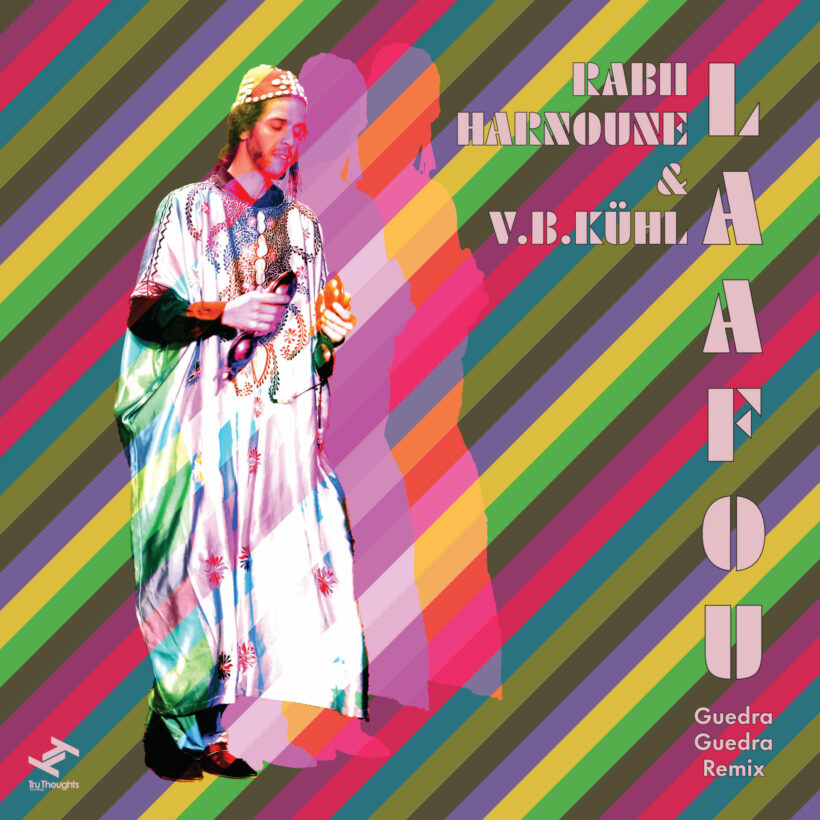 Released: 19 May 2022

Label: Tru Thoughts

Gnawa-fusion duo Rabii Harnoune & V.B. Kühl reunite, announcing new magical album 'GNAWA ELECTRIC LAUNE II' with new single "Laafou" featuring a remix from Casablanca-based producer Guedra Guedra

"Laafou" is the new single from the majestic duo of Moroccan Gnawa-master (maâlem) Rabii Harnoune and Frankfurt electronic producer V.B.Kühl. The release also features a remix from Casablanca-based DJ, producer and On The Corner signee Guedra Guedra, who adds his polyrhythmic and underground dancefloor blend of tribal bass, psychedelic vibes and ancestral rhythms to the original tune.

"Laafou" is a piece in Gnawa folklore culture dedicated to Bilal Ibn Rabah al-Habashi, the first muezzin in Islam (a ​​person who proclaims the call to the daily prayer five times a day at a mosque) hand-picked by Prophet Muhammad himself. V.B.Kühl adds the subtle touches of a vocoder and funky electronics to create a self-defined "uplifting Gnawa-fusion banger". This new single marks the announcement of Rabii Harnoune and V.B.Kühl's sophomore album 'GNAWA ELECTRIC LAUNE II' a record that melds traditional North African Gnawa music with funky, soulful modern club sounds.

Talking about the single Rabii says: "The piece "Al-Affu" means the end of suffering and comes as a conclusion to a group of lyrical musical pieces that dealt with the character of Bilal Ibn Rabah al-Habashi, who was chosen by the Prophet Muhammad, the first muezzin in Islam, for the beauty of his voice. After he gained his freedom in the bosom of Islam, having previously suffered from the oppression of slavery, Gnawa consider him as a sacred person and a legend that they praise in their musical pieces."

On the remix side, Guedra Guedra is a Moroccan DJ and producer who explores tribal polyrhythms, ethnic-sonics of Africa and underground dance floor innovations in his work. Guedra Guedra's debut album 'Vexillogy' was released via the genre-breaking and border-crossing imprint On The Corner, and praised by Bandcamp Daily, Resident Advisor, The Guardian, KEXP, Pitchfork, Mixmag and many more.

'Gnawa Electric Laune II' is a more defined follow-up to the duo's debut. The birth of the 'Gnawa Electric Laune' concept resulted in a fascinating cross-cultural record that won over the likes of Gilles Peterson (BBC 6Music) as one of his 'Winners 2020' (Gilles' round up of his favourite tracks of the year), Tom Ravenscroft (BBC 6Music), Songlines and many others, for its electric and otherworldly bridge from old to new.