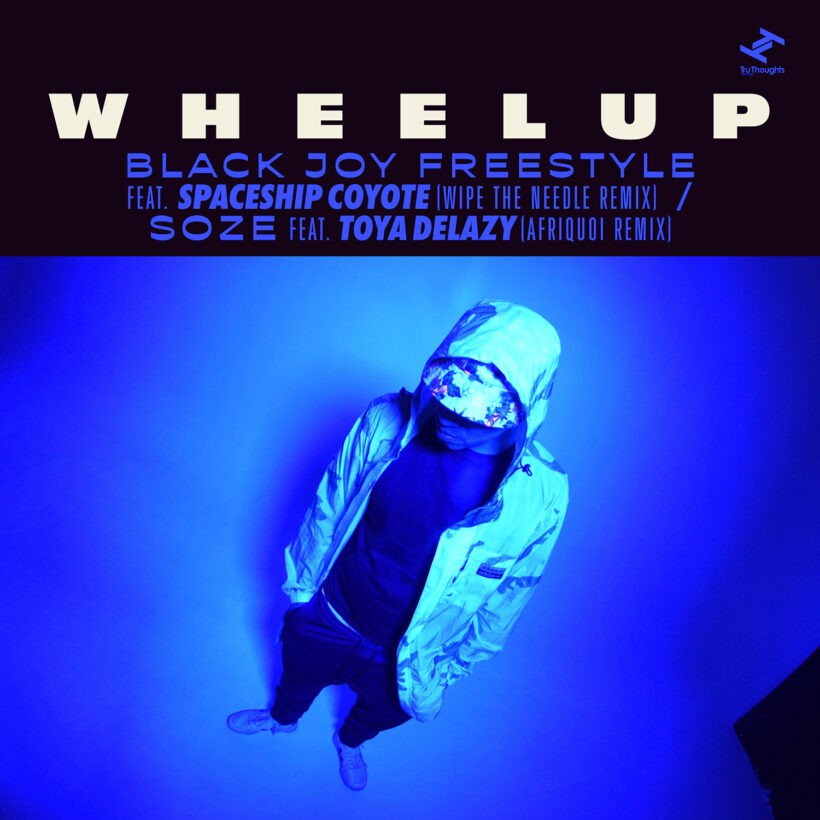 BlackJoy Freestyle feat. Spaceship Coyote (Wipe The Needle Remix​)​/​Soze feat. Toya Delazy (Afriquoi Remix)
WheelUP
Released: 2 Nov 2023

Label: Tru Thoughts

West-London producer, DJ and "bruk renaissance" torchbearer WheelUP aka Danny Wheeler follows his sophomore album 'We Are The Magic' with remixes of 'BlackJoy Freestyle feat. Spaceship Coyote' by Wipe The Needle & 'Soze feat. Toya Delazy' by Afriquoi.

As an artist growing up in the epicentre of Bruk that is West London, it was only natural that Danny, aka WheelUP would gravitate towards the 'West London Sound'; as WheelUP puts it: "It's in my musical DNA". Originating from the drum and bass world as Danny Wheeler, WheelUP follows the footsteps and lineage of 4hero, evolving from jungle/D&B to broken beat/bruk and was knighted an "honorary Bugz" by the original dons of broken beat, Bugz in the Attic, due to WheelUP's work in pushing the bruk sound to new audiences, as well as Marc Mac who thanked Danny for putting broken beat back "at the forefront".

Wipe The Needle, also known as Lee Gomez, is a versatile producer with an impressive track record that includes releases on labels like Defected, Local Talk, Broadcite, and Z Records. Gomez elevates 'BlackJoy Freestyle feat. Spaceship Coyote', infusing the track with an array of syncopated beats created to connect the listener to the rejuvenated slick bruk-inspired remix.

Afriquoi is a UK Afro supergroup, with members ranging in age across 3 decades; originating from Africa, the Caribbean and the UK, Afriquoi brings together a vast depth of musical knowledge, culture and life experience. The masterful group combines Gambian kora, Congolese guitar & Mandinka percussion styles with electronic music drawing on house, soca, hip-hop, soul & jungle to create something entirely unique. Afriquoi have injected 'Soze feat. Toya Delazy' with infectious energy utilising their combined skill sets to breathe new life into the track.

WheelUP has shared his excitement about the remixes, saying, "I love Afriquoi's music and love their remix of 'Soze.' They have such a cool vibe, and I am really happy with their remix. I asked Wipe The Needle to remix and BrukUP 'BlackJoy Freestyle,' and Lee has really delivered—a proper Bruk reflip on the remix, this one's for the Bruk heads."

Since the release of 'We Are The Magic', WheelUP has done a sublime guest mix for Defected Records, a guest show on Worldwide FM, been remixed by iconic Japanese drum & bass producer Makoto, and appeared on Gilles Peterson's flagship BBC 6 Music show, being hailed by the iconic tastemaker as part of both the "new drum and bass movement" and "bruk renaissance" – bridging together two scenes while paying homage to the pioneers before him.