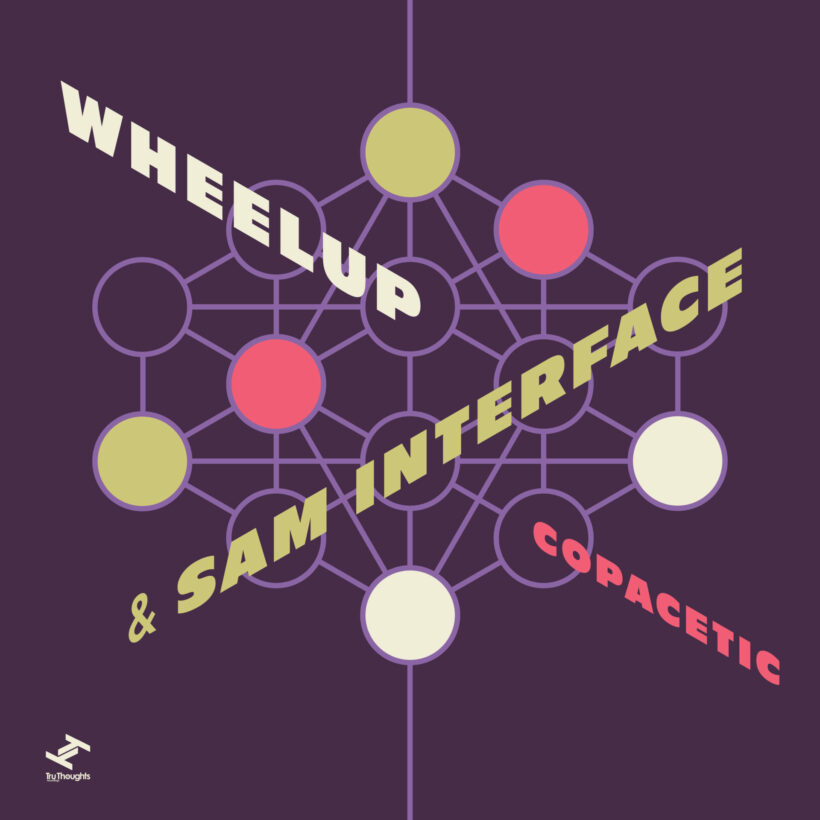 WheelUP & Sam Interface – Copacetic
WheelUP
Released: 26 Jul 2022

Label: Tru Thoughts

"WheelUP and Sam Interface link up for a fat, funky and bass-charged cut of classic breakbeat on Tru Thoughts" DJ Mag

"Copacetic" is the new collaborative riddim from producer, DJ and broken beat revivalist WheelUP aka West London's Danny Wheeler and More Time Records co-founder Sam Interface. A Junglist term for "on point" or "everything in excellent order", "Copacetic" is a monstrous bruk tune and bass-heavy peak-time weapon that is set to blow up dancefloors across the country.

Reconnecting at selector and broadcaster Jamz Supernova's Future Bounce label club night at Night Tales and later at Gilles Peterson's We Out Here festival, Sam Interface and WheelUP initially became acquainted through the early 2000s DnB scene as original junglists before evolving their sound to other genres and polyrhythmic approaches ."I think you can definitely hear the influences of that late 90s, early 2000s Bristol DnB sound that we both loved cutting through, quite gritty and hard, but fun and funky at the same time" Sam says talking about the formation of the song. "This is a dancefloor-ready business. Both Sam and I originated from the drum and bass scene, so the fact we made a bass-heavy dub was kind of predestined" Danny adds.

"Copacetic" is the return of new music from WheelUP since his debut album 'Good Love', a record that featured the likes of Afronaut (Bugz in the Attic), Abacus (Pola & Bryson) and label-mate Tiawa, and followed with remixes from Daz-I-Kue, Anushka, Yadava and Thijsenterprise. 'Good Love' was heavily praised for its resurgent broken beat sound by the likes of Gilles Peterson (BBC 6Music), Jamz Supernova (BBC 1Xtra), A-Trak (Fools Gold), Dave 1 (Chromeo), Benji B (BBC Radio 1), Bonobo, Ben UFO, Emma Jean-Thackray, Laurent Garnier and many more. "Take Me Higher feat. Tiawa", the second single from 'Good Love', was playlisted on BBC 6Music.

As an artist, producer and DJ of dual Zimbabwean and British heritage, growing up in the epicentre of bruk that is West London around the likes of Goya Music, IG Culture and Kaidi Tatham, it was only natural that Danny would gravitate towards the 'West London Sound'; as WheelUP puts it: "It's in my musical DNA". Originating from the drum and bass world as Danny Wheeler, WheelUP follows the footsteps and lineage of 4hero, evolving from jungle/D&B to broken beat/bruk and was recently knighted an "honorary Bugz" by the original dons of broken beat, Bugz in the Attic, due to WheelUP's work in pushing the bruk sound to new audiences.

More Time Records co-founder Sam Interface has been consistently producing dance floor heat for well over a decade. He released his first productions during the late 2000s using the name "Interface" including DnB classics like "Get Lo" and "Bright Lights". In 2011 he linked up with Trinidadian producer Keshav to form Jus Now. The combination of their disparate styles brought something truly unique to club music and soca music and their track "Tun Up" blew up dancefloors all over the world in 2013. They produced records with stars like Busy Signal, Beenie Man, Stylo G, Machel Montano and Miss Dynamite & "The Viking of Soca"- Bunji Garlin including the hits "Truck on d Road" & "Big Bad Soca".

Constantly chasing new creative paths, 2017 saw Sam launch More Time Records with DJ Ahadadream. Alongside all of this Sam has also managed to forge a career as one of the most respected (and platinum-selling) mix engineers around. Adding his bass-heavy sonics to massive Hits for artists like Wiley, Idris Elba, Stefflon Don, Sean Paul, Bugzy Malone, Aitch, Young T & Bugsey, M.O., Ray Blk and many more, as well as being a resident on London-based online radio station Rinse FM.