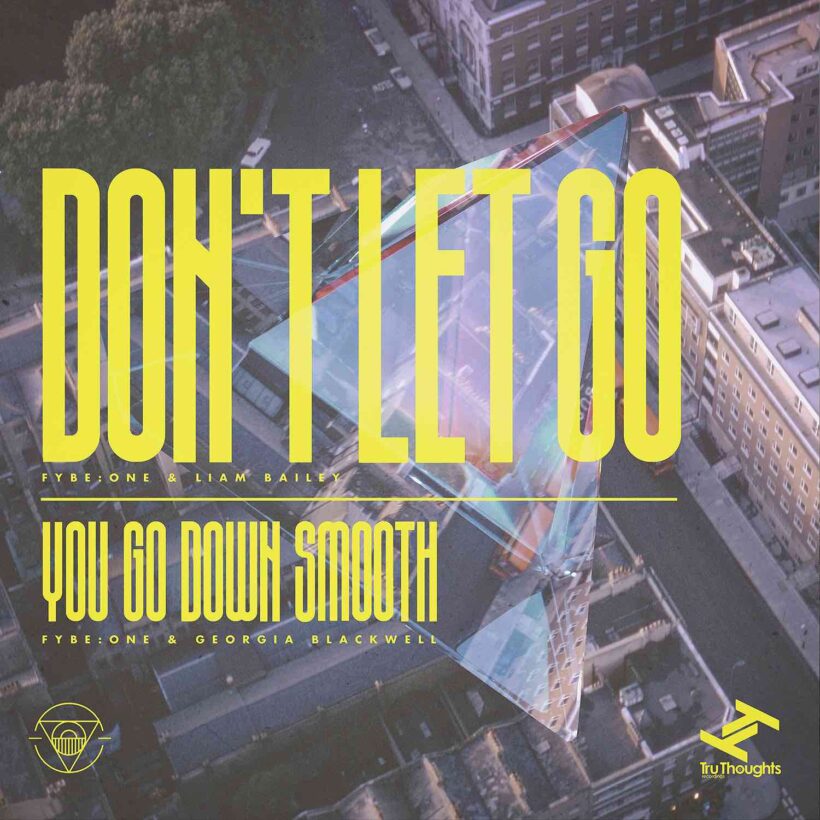 Don't Let Go / You Go Down Smooth
Fybe:One
Released: 11 Apr 2023

Label: Tru Thoughts

"Don't Let Go feat. Liam Bailey / You Go Down Smooth feat. Georgia Blackwell" is the new release from South London-based producer, DJ, illustrator and graphic designer Greg Haynes AKA Fybe:One. The double A-side single features two tracks taken from Fybe:One's sophomore album 'This Is Ours' (out Friday 23rd June). Stemming first from collaborations with singer and songwriter Liam Bailey, the album is a cumulation of experimental production and celebrating varied vocal offerings.

"Greg's great at creating feelings through the textures and patterns he uses and that gave me confidence to relax and trust where the music was taking me" – Liam Bailey

Known for his releases on Amy Winehouse's Lioness Records and Big Crown, alongside collaborations with Chase & Status, Shy FX, Salaam Remi, Breakage, and Alix Perez, Don't Let Go sees Liam Bailey make a heartfelt plea, driven by spontaneously open and honest lyrics, taking inspiration from the breakdown of a close friend's marriage. Listening to the pacing of the production and allowing the beat to constantly knock against him, Liam put himself in the shoes of his friend and imagined what he was going through; "I would close my eyes and imagine dancing in false and fading lights. Skin-tight close to somebody as they are slipping away from you," he adds. "The track throbs. The pain is palpable, and I like that."

Alongside "Don't Let Go", "You Go Down Smooth feat. Georgia Blackwell" is the optimistic antidote of newfound romance. Following the lead from Fybe:One's charmingly playful instrumental, Georgia lets her background in Soul and R&B vocals lead over its quirky bounces as she leans into the fresh perspective and optimism that can come from the feeling of new love, and the healing energy it has to bring a new lease of joy to life.

'This Is Ours' features further Liam Bailey vocal offerings alongside fresh UK sounds from Katey Brooks and recent Wu-Lu collaborator Breezy Lee. Taking its name from a Liam Bailey lyric, each track on 'This Is Ours' exists in its own space and subject matter, bound together by Fybe:One's innovative production and the universality of the human experience. The collaborations are organic and respectful, wrapped in the glow of the positivity that comes from appreciating what you have; be it family, surroundings, nature, or your own creativity.