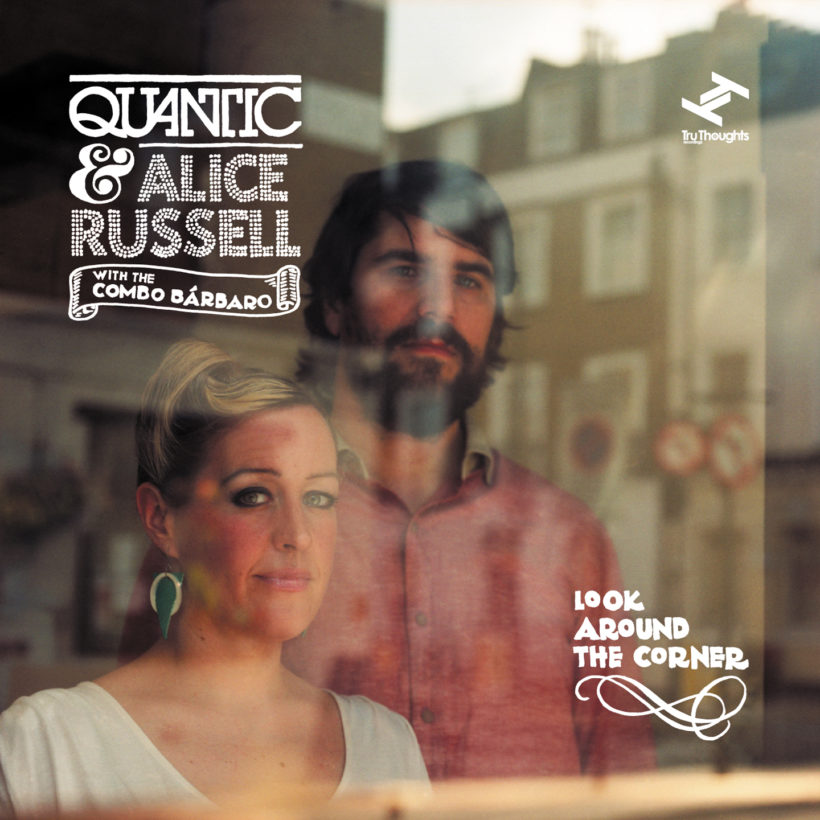 Released: 2 Apr 2012

Label: Tru Thoughts

This intoxicating record mixes sweet souland blues with overtones of folk andgospel, and the inimitable swing ofQuantic's world-renowned outfit theCombo Bárbaro, who form the core band. Recording at Quantic's Sonido del Valle studio in his adopted home city of Cali,Colombia, producer/musician Quantic and singer/songwriter Russell had the space and time to revel in their creative chemistry, revisiting and building on the spirit of their previous collaborative tracks which have peppered the last decade (including big hitters for Quantic Soul Orchestra and for Russell's solo project). For legions of hopeful fans around the World, this is the culmination of a tense will-they-won't-they storyline, and 'Look Around The Corner' proves good things come to those who wait.

The first single is the album's title track, which came out on 10" vinyl and download on 20th February. Intricately layered and stunningly realised, it has sparked a huge buzz and an addition to the BBC 6Music Playlist. Major radio support includes repeated daytime spins across 6Music and from Robert Elms (BBC London); tastemaker play from Gilles Peterson (BBC R1), John Kennedy (XFM), Craig Charles (6Music), Emma Warren (RBMA/NME Radio), Jamie Cullum (BBC R2), Alex Lester (BBC R2) and more, plus many session and interview requests. Heavy international play includes rotation onKCRW (USA) and French national stations including FIP and France Inter. With Alice Russell's versatile, shimmering vocals and Quantic's trademark warm production alongside big string sections, spine-tingling harmonies, unshakable hooks and an uplifting crescendo, it is no surprise.

The lead track lights the touch paper, and the album abounds with melodies and momentum from there on in; brimming with big, classic-sounding yet fresh and original songs including the simply irresistible funky stomp of "Magdalena" and the close harmonies, Latin rhythms and bouncing melody of "Su Suzy". There's a taste of vintage rock 'n' roll on "Boogaloo 33"; and a modern take on seventies soul ballads in "I'd Cry", on which Russell's heartfelt candy-laced vocals play a bittersweet game of call-and-response with gypsy-folk violins and the dancing piano keys of Alfredito Linares, one of the musical stars of the record.

"Travelling Song" and "Similau" see the duo reinterpret a classic folk song from the English movement and one from its equivalent in the West Indies. You'll also find an inspired version of the soul standard "I'll Keep My Light In My Window", one of Russell's all-time favourite songs which has scarcely sounded better than in this current incarnation, on which she exercises her famed powers as a classic soul vocalist. The band take centre stage in instrumental numbers including "Una Tarde In Mariquita" and "Road To Islay", showcasing the sheer wealth of talent running through the outfit, not to mention the compositional skills and broad church of influences for which Quantic (aka Will Holland) becomes ever more greatly revered with each release. The closing flourish – a Reprise of "Look Around The Corner" – is a compelling invitation to hit the repeat button.

Quantic, aka Will Holland, moved to Cali, Colombia in 2007, and the sessions that became 'Look Around The Corner' took place over two visits that Russell made in the intervening four years. Pushing the concept of their previous collaborations, reflecting the locale and the players' backgrounds, Quantic and Alice Russell infused the style with a Latin undertone; the blues and soul sound still takes centre stage though, rather like the soul records made in Miami and New York in the '70s, or the disco from the Bronx.Chicago's Chess label was a key influence on the production aesthetic, and a mutual love of Minnie Riperton fed into some of the vocal melodies.

The record features Mike Simmonds (Alice Russell's regular strings guru who joined them in Colombia from London); as well as Alfredito Linares, bassist Fernando Silva and conga player Freddy Colorado, all from the Combo Bárbaro. Wilson Viveros, from coastal town Buenaventura, was an invited drummer; also on drums for some songs was Jazz drummer Larry Joseph from Cali. Alfredito is the instrumentalist star of the show, sprinkling his magical and charismatic brand of bluesy, boogaloo piano throughout the album.

Tru Thoughts' two all-time biggest selling artists, Quantic and Alice Russell have each captured the World's imagination not just for their natural born talents but for their unique and refreshingly passionate take on their craft, with an authentic yet creative approach. With ever-growing international fanbases, sell-out tours, and coverage across the World's music and cultural media they are now well established artists;Quantic released a critically acclaimed 'Best Of' compilation last year, celebrating 11 years and 14 albums on Tru Thoughts, while Alice Russell regularly plays to thousands both at home and abroad, and is recording her fifth longplayer.