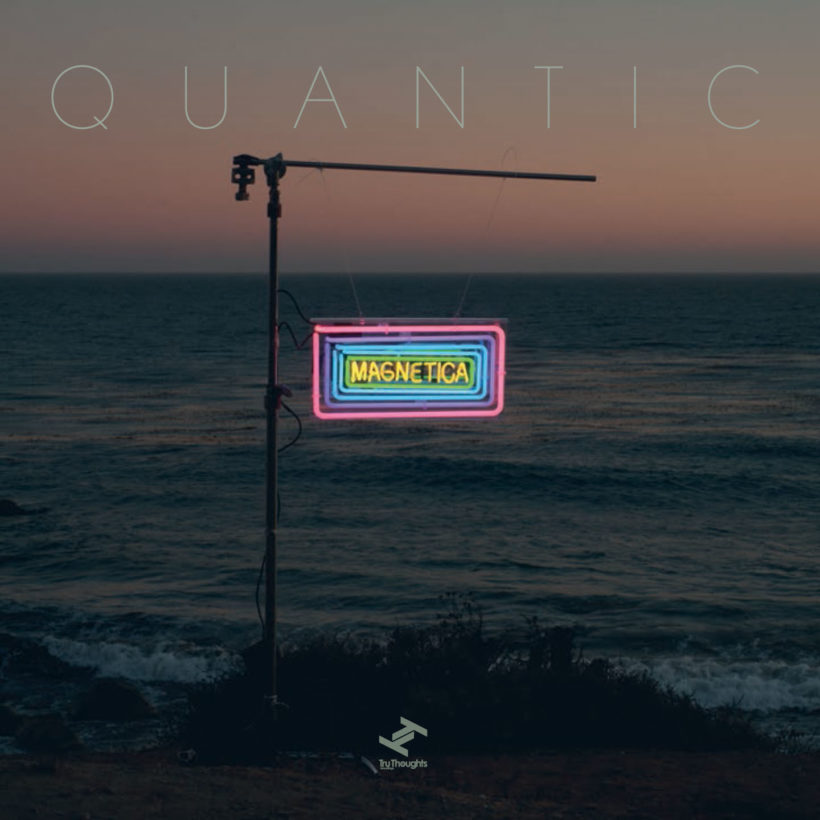 Released: 5 May 2014
Label: Tru Thoughts
'Magnetica' is the new album from Quantic, which was announced by The Guardian alongside a premiere of the lead single, "Duvidó" feat. Pongolove. This LP finds British born Will "Quantic" Holland revisiting his roots as an electronic producer, blending cutting-edge and distinctive production with elements of folk, reggae, soul, highlife, cumbia and more, and demonstrating the rare quality and artistry that has enchanted fans and tastemakers across the world, over more than a decade of releasing music on Tru Thoughts.
The early support for "Duvidó" – an intoxicating party cut featuring the iconic Angolan/Portuguese vocals of Pongolove, whom many will know from some of Buraka Som Sistema's biggest hits – has been phenomenal, with radio play including Gilles Peterson, Radcliffe & Maconie and Nemone (all BBC 6Music), Toddla T's Girls Music show (MOS), Jason Bentley (KCRW) and more; plus over 30,000 video views.
'Magnetica' is the first Quantic album under his main solo moniker since 2006's 'An Announcement To Answer', and in the interim this prolific artist has raised the stakes further with acclaimed side-projects including The Quantic Soul Orchestra, the Combo Bárbaro, Quantic & Alice Russell, Flowering Inferno and Ondatrópica (Soundway). Having spent the last seven years living in Colombia (in both Calí and Bogotá), a base from which he has worked with many of the finest musicians from Latin America and the Caribbean, on 'Magnetica' he now casts his net even wider to take in the sounds, styles and languages of the UK, Ethiopia, Jamaica, Brazil, Angola and beyond.
The LP opener and title track is an energetic, sub-bass-heavy instrumental which sets out the stall for an album of twists and turns and discovery. "I wanted to have the opening theme to this… this foray… as something that was quite electric in its energy. Working more with Ableton live and synths and beats – after quite a long time away from it, it was refreshing and fun to jam out with some electronic instruments", says Holland. The sound he has coined here is a meeting of worlds; revelling in recent technological advancements and the opportunities they offer for innovation, while drawing heavily on his years of immersion in authentic, analogue, live tropical soul music.
In a bittersweet dose of psychedelic folk, label-mate Alice Russell gives a beautifully wistful turn among the glistening, banjo-led layers of "You Will Return", and the British soul queen is just one of many vocalists that lace this album with their vitality and variety. Dereb The Ambassador's Amharic lyrics on "Arada" reflect his Ethiopian origins and the punky energy of his own band, of whom Holland is a fan; Iara Renno brings a sweet tale of simple Brazilian country life on "Caruru", which spirals gleefully into a dubbed-out haze. Colombian Nidia Góngora, a regular collaborator, contributes to the brief and beautifully written "La Plata" – which speaks in Spanish of money – and the danceable "Muevelo Negro", which sold out rapidly on upfront vinyl in 2013. Reggae star Shinehead hooked up with Holland in LA to lay down the effervescent "Spark It"; Thalma De Freitas voices the sensual, harmonically delicate "Aguas De Sarongo". Anibal Velasquez, from the Colombian dance music hub of Barranquilla, provides vocals and accordion on "La Callejera" – a vivacious ode to a woman of the streets, who lives to party; now in his late '70s, he still oozes the charm and lust for life that makes Holland refer to him as a "super charismatic guy who has this unique style, this very cheeky approach".
While this album features an exciting return to electronic production, Holland has, as ever, assembled a stunning crew of instrumental cohorts to add their unique live energy to the record. Colombians Fruko and Michi Sarmiento, both legends of the Fuentes label throughout the '60s and '70s, are reunited on the sparkling instrumental cut "Descarga Cuantica"; while the string arrangements on "You Will Return" & "Aguas De Sarongo" come care of world renowned violinist and arranger Miguel Atwood-Ferguson.
Among the melting pot of international styles that the world has come to expect from this endlessly curious musician, on 'Magnetica', Holland also finds space to celebrate the homegrown English folk influences of his upbringing – notably on the mesmeric album closer "Painting Silhouettes". An audiophile to the last, in addition to pushing himself forward creatively through experiments in uncharted rhythms, tempos, time signatures and cultures, Holland has also excelled himself in the integrity of the album's sound quality, consciously working to unite these diverse elements – sonic souvenirs of his own creative and personal journey – into a thoroughly cohesive listening experience which pops out of the speakers like never before, even by his own exceptional standards.
credits