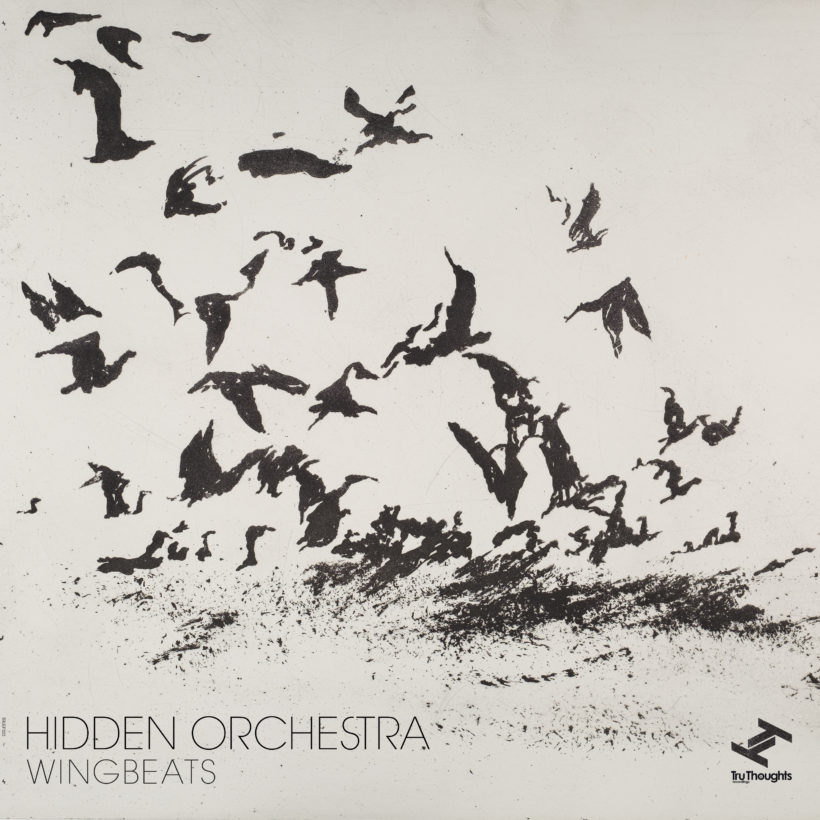 Released: 11 Nov 2016
Label: Tru Thoughts
On the 7-track "Wingbeats" EP the immersive lead track is accompanied by several of the original source compositions which fed into its creation, illuminating the fascinating intricacy of producer and composer Joe Acheson's work. Rich in detail and character, field recordings intertwine with drums, percussion and eclectic instruments including piano, electro-harp, glockenspiel, Turkish mey and cello.
"Wingbeats" lands in the run-up to Hidden Orchestra's appearance at the Royal Albert Hall (22nd Nov) with Roots Manuva, Andreya Triana and Henry Wu – a milestone that builds on a dizzying run of gigs this decade, from sellout AV shows at London's Union Chapel and St John at Hackney to hundreds of headlines and festivals at home and abroad.
The first new Hidden Orchestra material to emerge from Acheson's studio in four years, this unique EP follows the 'Night Walks' (2010) and 'Archipelago' (2012) albums, which established the beat-heavy and multi-layered sound as a favourite with music fans of all stripes, gaining praise everywhere from The Independent to XLR8R to BBC 6Music. With official remixes flowing in from top producers including submerse, Mungo's Hi Fi and Floex, Hidden Orchestra's reworks of other artists include a notable commission for Bryan Ferry's 'Avonmore (The Remix Album)'. Anticipation for new music has also been stoked by hugely popular mixtapes, side-projects, and incendiary live shows boasting the might of two full drum kits. "Wingbeats" sees Acheson leaning further into experimental, neo-classical ground, showcasing his musicianship while intriguingly laying bare his personal artistic processes.
In his descriptive sleeve notes for this deluxe 12" vinyl – which also features an exclusive print from revered artist Norman Ackroyd on its cover – Acheson elaborates: "For as long as I can remember, I have found that what draws me to a piece of music can often be one small detail – a single characteristic or maybe a fleeting moment of beautiful sound or compelling rhythm… So, for a Hidden Orchestra composition I often create lots of individual source pieces – orchestral sketches, drum arrangements, solo instrumental improvisations, manipulated field recordings – and pick out bits to reinterpret as samples with which to write a full track, combining and arranging them to create an imaginary orchestra".
Although written for sampling, the pieces included on the "Wingbeats" EP stand on their own as individual compositions, striking elements coming to the fore in each one. And each source track tells a story: of birds fluttering in to feed on crumbs in a rural British garden, or flocking in a hedge in the snow in the French Alps; of an imaginary string orchestra; of a suspenseful, early-hours piano jam; of a spot of instrument shopping in Istanbul while on tour; of a sleepy village engulfed by an exhilarating early-morning dawn chorus, rounded off with church bells.
In addition to multi-instrumentalist Acheson, exquisite musicianship on the EP comes from regular Hidden Orchestra drummers Tim Lane and Jamie Graham, pianist/violinist Poppy Ackroyd and long-time collaborators including harpist Mary Macmaster, cellist/saw player Su-a Lee and Czech bass clarinettist Jiri Javurek.
A sonic experimenter and nature enthusiast, Acheson has always captured field recordings and found sounds to incorporate in his Hidden Orchestra music, as well as using them in his award-winning work as a radio producer and soundtrack composer, and the last year has seen him taking this to intriguing new extremes with "Marconi & The Lizard" – an EP born of an artist residency at Cornwall's Lizard Point, commissioned by The National Trust and British Library. Released under the Joe Acheson solo name, this project was greeted with features in The Guardian and The Independent and radio support from Tom Ravenscroft (BBC 6Music) and Late Junction (BBC R3), creating even more interest in Acheson's exciting musical explorations in the run-up to the "Wingbeats" EP.
credits