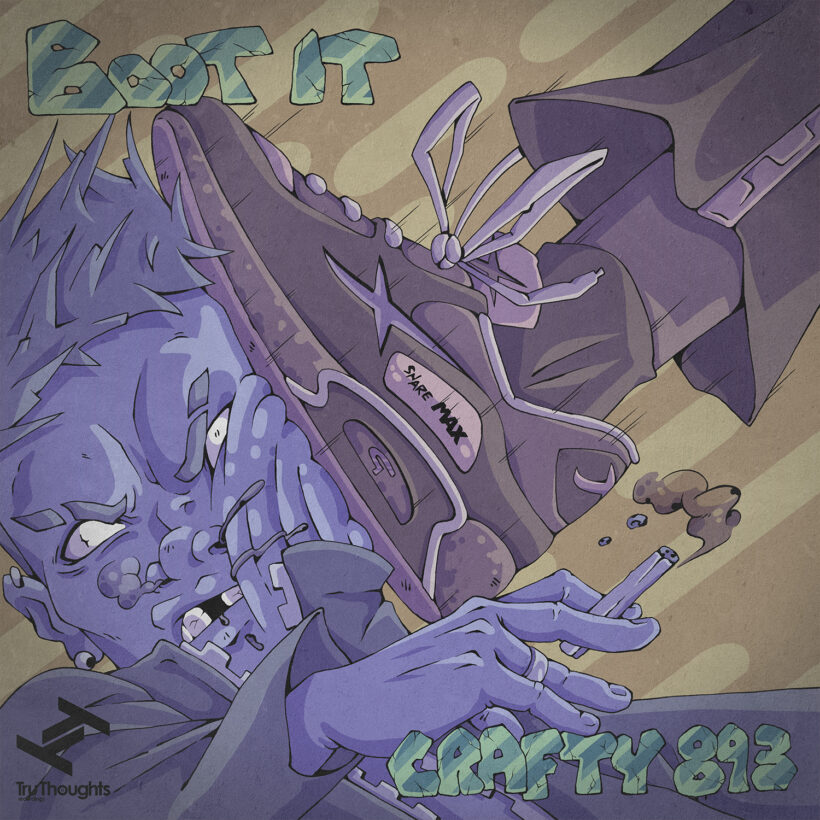 Boot It (Album pre-order)
Crafty 893
Released: 21 Jul 2022

Label: Tru Thoughts

Rising south-London producer, engineer, MC & creative vanguard Crafty 893 returns with his new project 'Boot It', an eleven-track heater that expands the parameters of Crafty's musical experimentation. 'Boot It' demonstrates Crafty's musical evolution and versatility, moving away from the straight-up grime sound on his debut album 'Smart Dumb' and beat-style production on 'Weapon X'. Instead, the album effortlessly and organically switches it up between a palette of UK sounds such as Rap, Trap, Drill and Afro-Swing with Crafty MCing, singing and sometimes even amalgamating the two in a unique way, all while staying true to Crafty's foundational grime roots.

Since the release of his debut project on Tru Thoughts "Induction EP", Crafty has been on a non-stop trajectory; executively producing Big Zuu's debut album 'Navigate'; performing alongside JME at Maiden Voyage festival as part of his Grime MC FM tour; producing ads for giants such as Adidas x Jacamo and Pret a Manger; as well as being an in-demand producer for a whole host of MCs, including Venezuelan-British artist Fluffy on the reggaeton tune 'Besame'. As Crafty perfectly summarises: "Crafty 893 is a genre – no one tells me what to do, versatility is my best ability". Most recently, Crafty has produced the soundtrack for Big Zuu's Breakfast Show on ITV and Big Zuu's Big Eats (where he makes a cameo) on Dave; the latter has just won two awards at this year's BAFTAS.

With no features across the LP, Crafty doesn't mess around on 'Boot It'; writing, MCing, producing, recording, mixing, mastering, as well as leading in the visual and creative direction single-handedly. '"It's about my journey from 2019 to the present day. It is documented in this new project, laying out situations and elements in my life for the past four years." He adds, "This is a UK album, this is no Future or Lil Uzi Vert".

On the LP opener and titular track "Boot It (Intro)" Crafty lays out the framework of the album, demonstrating that he is the punchline king. The release was accompanied by inventive visuals that dropped with the scene's essential outlet GRM Daily and a first play from the legendary selector Sir Spyro (BBC 1Xtra). Lead-single "Senior Don" is a cold tune inspired by Crafty's love for the Adult Swim sitcom The Boondocks which he cites as a "big part of my childhood", lyrically "Senior Don" metaphorically flips "real-life serious situations into a joke". While "Easy Nah" sees Crafty making his singing debut, "it's my attempt at a love song" he adds. Crafty approaches this by singing how he raps, "someone told me I can't – so I did it" is the mantra.

Elsewhere on the record UK Drill is the prominent sound, blended raw with grime on freestyle "Lava Lamp", with an R&B slant on "Over The Moon", or a different style altogether on album closer and bonus track "Wanna Be". Storytelling is a core of Crafty's lyricism, speaking brutally about the reality of life in his area and opening up on depression ("Unfair"), telling the tale of an altercation ("Don't Miss"), and confessing about a dark love story ("Princess Peach").

"Sheff G" is a double entendre, a nod to a vanguard of the Brooklyn Drill movement and an appreciation of the American Drill genre holistically, but also a UK slang term for something different. "US rappers can't do the UK ting" Crafty adds, "let's do it our way with Drill". The song also illustrates Crafty's innovative production approach, leaving in outtakes of him breaking into laughter, a colourful touchpoint in the track. This effect is also present in "PLS", a plea to be left alone by friends and family, the song uses voice notes of friends calling in asking "Crafty, what you sayin?" as a chorus hook.

'Boot It' follows Crafty's instrumental concept LP 'Weapon X' and critically acclaimed debut album 'Smart Dumb', which featured legends in the scene such as Big Zuu, Sir Spyro and Manga Saint Hilaire. 'Smart Dumb' won over the likes of Mixtape Madness, GRM Daily, Sir Spyro (BBC 1Xtra) and saw Crafty grace the cover of Spotify's iconic Grime Shutdown playlist.