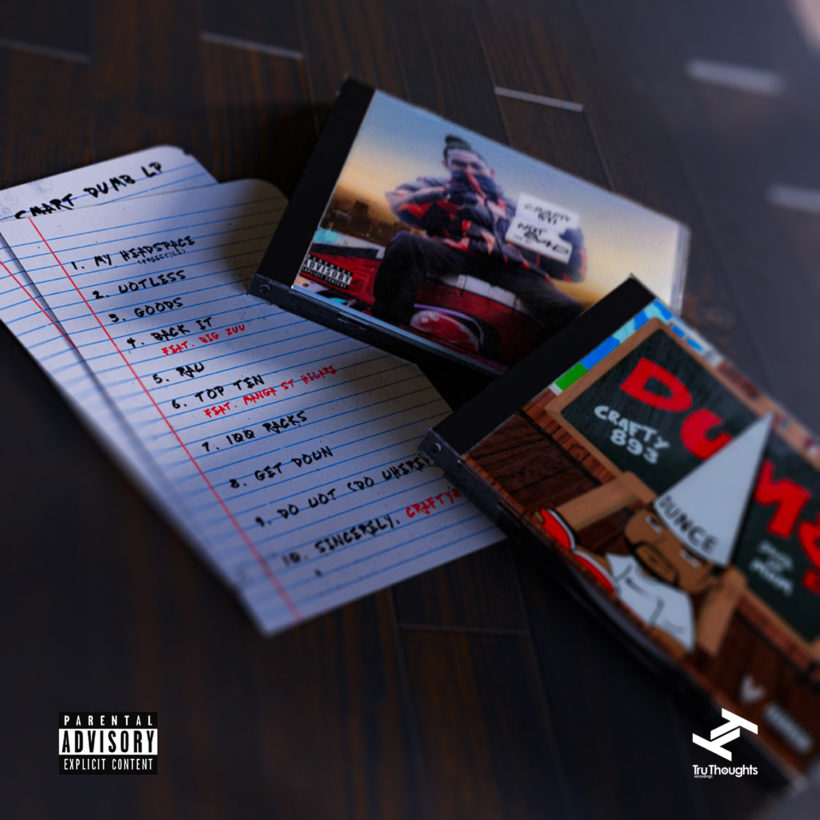 Released: 9 Apr 2021

Label: Tru Thoughts

"Go introduce yourself to Crafty 893. Trust Me." Sir Spyro (BBC 1Xtra)

Crafty 893's debut album 'Smart Dumb' transverses the notion of what a 'grime artist' is, with Crafty 893 MCing and producing across his LP. Crafty enlists features from the best loved-force in the UK underground Big Zuu and grime's storyteller-in-chief Manga Saint Hilare (Roll Deep).

Talking about his album, Crafty says: "This LP is professional re-releases of songs from my old mixtapes/EP 'Not Bad' and 'Dumb' with a host of new tunes. This record showcases all the different sides to my production and bars – and is a progression of where I'm at now."

'Smart Dumb' is a body of work that vaunts collabs with a dominating force across food, TV and grime – Big Zuu on the gang-mentality "Back It", as well ex-Roll Deep member and one of grime's realest storytellers Manga Saint Hilare on "Top Ten". Elsewhere on the record Crafty's uses his production calling card 'Crafty are man's dumb?', courtsey of Sharmarke (OVO & Drake's photographer), to mark his territory. Bringing a lyrically raw and undoubtably technical aesthetic to his flow, Crafty conveys his experiences and aspirations through his forward-thinking songwriting and productions. Contextual touchpoints from growing up in an environment commonly associated with 'The Ends' weaves through tracks such as "Goods", "100 Racks" and "Get Down", while the war like environment evoked through radio sets is channelled into "Raw" and "Do Wot (Do Where)". The album is bookended with the reflective "My Headspace (Freestyle)" and "Sincerely, Crafty 893" that showcases Crafty's introspectiveness.

Crafty 893 has been making waves since his introductory "Induction EP" (which was championed across BBC Radio 1, 1Xtra, and RINSE FM alongside press pick up in TRENCH, Dummy & EARMILK). As an act who has been co-signed by all the key players in the game, and feared at every set he takes part in, 'Smart Dumb' is the next chapter for this future-vanguard, and with a new chapter comes new levels.