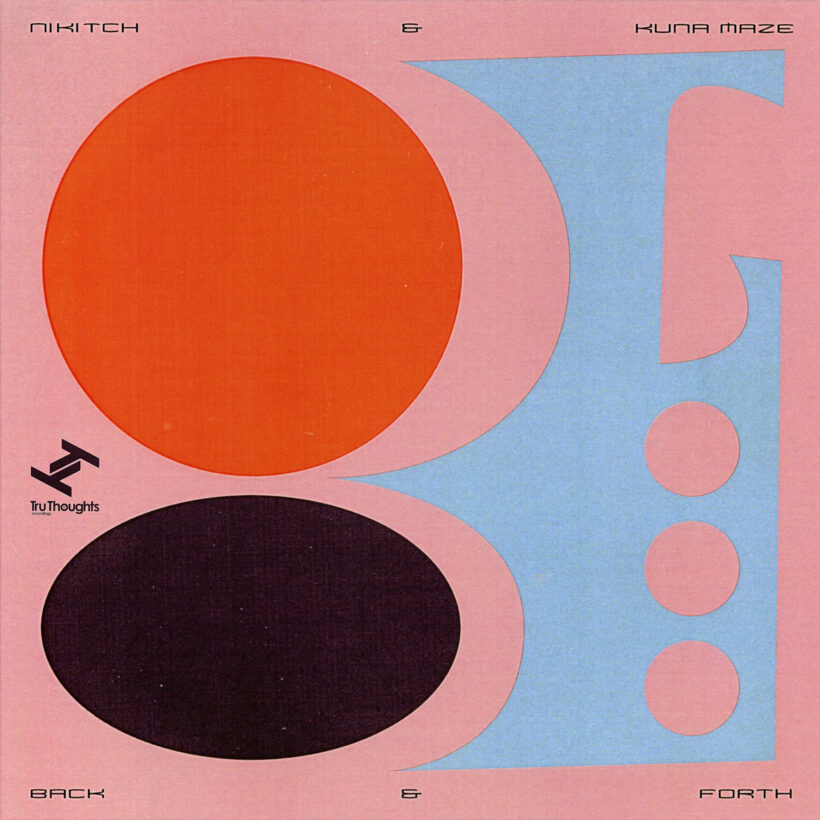 Released: 27 May 2022

Label: Tru Thoughts

France-via-Brussels duo Nikitch & Kuna Maze, aka Nicolas Morant & Edouard Gilbert, make a solid return to form with new album 'Back & Forth'. Building on the signature sounds the duo developed on their first full-length LP 'Debuts' – that was praised by the likes of Gilles Peterson, Tom Ravenscroft (BBC 6Music), and Music Is My Sanctuary – 'Back & Forth' is a deeper and more radically aesthetic approach to its predecessor.

Nikitch & Kuna Maze expand on their soulful and subtle combination of jazz-flavours and the syncopated beats of broken beat and UKG; the album sees the duo working with collaborators for the first time, such as Brazilian singer-songwriter Joao Selva, while also experimenting with their own vocal material.

"At the beginning, it was quite weird and new for us, but it definitely added something special to the album. It's not about delivering a message, but a way of adding playful elements to the grooves of the tracks," Nicolas explains. "We were listening to a lot of 70s jazz records, where they were singing and improvising melodies without the lyrics. Originally, we recorded the vocals to get some initial ideas down on the track, with the plan of adding in other vocalists. But then we started thinking, 'why don't we keep it like that? It sounds cool actually!'" Edouard adds.

A direct reference to the mode and method of creation, 'Back & Forth' was catalysed by sketches of ideas sent back and forth online from France (Nikitch) to Belgium (Kuna Maze) before being finalised in studios sessions between Grenoble and Brussels. The concept on the record also plays on the geographical reality of the musicians' relationship, "we have to go back and forth regularly to keep this musical journey moving, and for us to live this life making music", Nicolas chimes in.

Influenced by the likes of John Carroll Kirby, Kaidi Tatham, Byron The Aquarius and Moodymann, the duo continues to explore the intersection between jazz and club culture, demonstrated by the sheer musical variety present on the album, spanning from house to broken beat, brit-funk, Brazilian, jazz-funk, and more.

Lead-single "La Di F…Da" accentuates the duo's flirtation with house music, delivering a road-tested crowd-pleaser that playful meshes dub sirens and Nervous Records-esque vocal stabs with elements of Brazilian samba and protean brit-funk energy. A reference to a Mark Wahlberg quote from the iconic Martin Scorsese film The Departed, "La Di F..Da" evolved from an in-joke on tour to a dance floor-filler at shows.

The suave jazz-funk of the Joao Selva collaboration "Engatinhar" is a play on the Brazilian expression 'pra sabre tem que engatinhar' that translates to 'you need to know how to crawl before you walk'; and "Sauce Brazil" an intense polyrhythmic palette of Brazilian percussion (a regular footnote throughout the record), is dovetailed to the superlative alto-sax solo to end.

'Back & Forth' opens with the magnificent sonic vogue "Coffee Kingdom", an ode to the duo's love of coffee. The album is bestrewn with references of Edouard's passion for the game of chess, from "Zugzwang" (a term for where you wish you could skip your turn and let your opponent play because all the moves available to you are detrimental); "we are all Zugzwang in our life sometimes" Edouard jokes. To album outro "En Passant", the infamous pawn-capture move and French-style chess composition.

Elsewhere on the record, fragments of ideas taken from a state of permanent transience seep in – "507 Miles High" (the distance flitted between the two homes of Nicolas and Edouard) and a nod to the jazz-fusion standard "500 Miles High" by Chick Corea; "Bus de Nuit" aka the night bus, a frequented visitee in the early hours after recording sessions; as well as stories sifted from the vivid narrative snapshots of their homeland, such as the death of a French politician ("P.P.'s Dream").