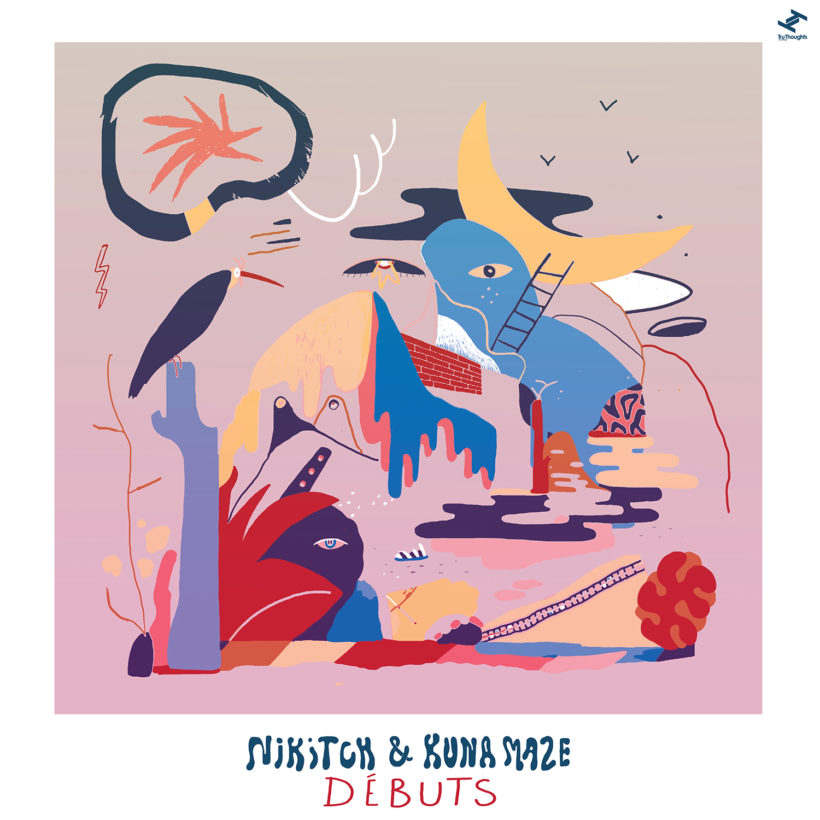 Released: 3 Jul 2020

Label: Tru Thoughts

'Débuts' is France-via-Brussels duo, Nikitch & Kuna Maze's (aka Nicolas Morant & Edouard Gilbert) first full length album. Building on their collaborative EP "Mush", 'Débuts' continues to explore the melting point between jazz and club culture, interspersed with the signature sounds of broken beat, Chicago footwork, UK garage, Detroit house, and underpinned by their road-tested new live format.

'Débuts' see's the band push their musical and creative development further, a result of touring extensively around Europe with a live drummer and playing everywhere from high-brow jazz festivals to sweaty basement clubs. Tracks such as "46 Rue Du Fort" and "Monopoli Driver" tie the feelings of shared experiences at geographical locations to the music itself. A frantic taxi driver in the Italian village of Monopoli is cemented into the footwork frenzy of "Monopoli Driver', "46 Rue Du Fort" is the address of the rehearsal space in Brussels, and "Francis' Theme" is a soundtrack dedicated to Edouard and Nicolas, the Francis' boys – a nickname given to the duo by their drummer. The album includes standout tracks from the "Mush" EP; the vibrant jazz-funk explosion "ZBRA", broken beat revivalist anthem "Bruk", downtempo and spoken words snippets of "JPS", the frantic footwork and juke influences in "The Leak", and soul-saturated "CBD".

Nikitch & Kuna Maze channel their instrumental skills to create compositions using their common chemistry; blurring the lines between improvisation, production and the art of DJing. All these aspects become the creative DNA for the duo and become a catalyst in the music itself.

'Débuts' is fronted by lead-single "Hey, This Must Be Deep", a track that evolves from a string-synth soundscape intro into a bruk swung-groove, with a firm nod towards Brazilian jazz/funk. The title of the single is a homage to the words spoken by jazz-poet Gil Scott-Heron at one of his legendary one man shows.