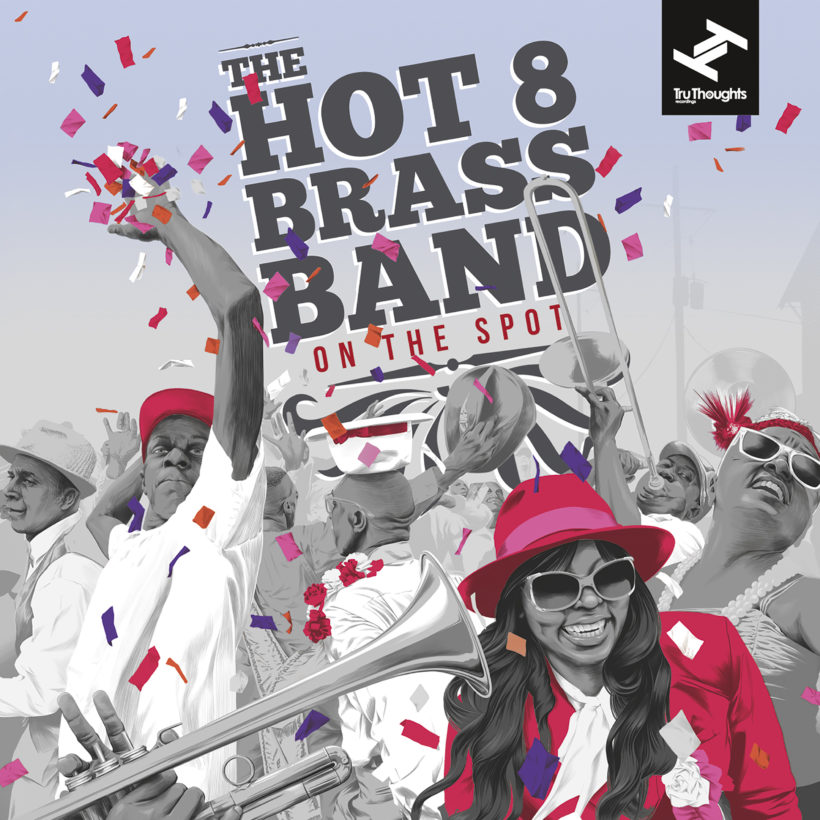 Released: 31 Mar 2017

Label: Tru Thoughts

"[Hot 8] has helped galvanise its community since 2005; captures both the edginess and transcendent beauty of life in its city" – The Wall Street Journal

New Orleans' Grammy-nominated Hot 8 Brass Band release their fifth LP, 'On The Spot', on 31st March 2017 alongside an extensive tour of Europe, Australasia and North America including their biggest London headline yet at The Roundhouse.

An early buzz was kicked off by December 2016's "Working Together"/"Keepin' It Funky" single and two accompanying videos, one of which featured Craig Charles leading Hot 8 and thousands of revellers in a jubilant New Orleans-style parade at Madness' House Of Common event. This was just one of many highlights of 2016 – a huge year of touring and festivals which saw them reaching out to an ever increasing fanbase in the wake of their 20th Anniversary, and proving that wherever they are, Hot 8 bring the unique, undiluted energy of the Second Line parades.

The title of the new album refers to the glorious, rare moment in a New Orleans parade when the band stops to take a break but keeps noodling with their instruments for the crowd. Vibing, keeping the energy up, when they're completely in the moment they sync up and the magic happens – a new tune is created: On The Spot. Buzzing with the spontaneous synchronicity which has fuelled their development from the streets of their hometown to the forefront of the global scene over two decades, their fifth LP sees Hot 8 committing this live sound and spirit to record like never before – note the exclamation captured on tape at end of the title track: "Did we just make that up?!"

'On The Spot' also points to the way Hot 8 have had to adapt, learn and live from moment to moment throughout their career, and their lives. A barely imaginable series of trials – the devastation of Hurricane Katrina, the separate deaths of five band members, and trumpeter Terrell "Burger" Batiste losing his legs in a car crash – have tested these men time and again. Their tragic yet life-affirming story has been featured in the Spike Lee documentaries When The Levees Broke and The Creek Don't Rise, and David Simon's HBO series Treme; recent interviews with Mary Anne Hobbs (6Music) and BBC World Service's Outlook chimed especially intensely with listeners in the midst of the Black Lives Matter movement.

In true Hot 8 style, this album pairs hard-hitting, heart-on-sleeve sentiment with party-fuelling beats, hooks and grooves; raw funk and charismatic hip hop vocals mix with Big Easy jazz elegance. These 11tracks have helped the band get through their up and down moments; 'On The Spot' honours fallen friends and the city of New Orleans, and showcases new heights achieved after coming back from the deepest lows. "We still break down a lot," says bandleader and tuba player Bennie Pete, "but now it's tears of joy. We keep everything in our hearts, but we keep on."

A serious message from the street is delivered via a buoyant beat on"Get It How You Live",and the loop-the-loop form of"Bottom Of The Bucket" was inspired by trying to escape their trials and tribulations: "It's like that story about crabs in a bucket", says Pete. "One gets to the top and the others will bring him back down. We tried, but there was no one to help pull us out. So we had to do it on our own". Percussion legend Alfred "Uganda" Roberts (a collaborator of Dr. John, Allen Toussaint and The Meters) graces the latter track, while the heartrendingly beautiful "St James Infirmary", first learned in church, features the magic touch of Dr. Michael White, a prolific clarinettist from the traditional New Orleans culture.

The joyful "That Girl" taps a different part of their history: "We all love Stevie Wonder, and this is one of those tunes we'd heard coming out the boomboxes of our mamas", says Pete. Further expanding their canon of inspired covers (which, of course, includes their legendary take on "Sexual Healing"), "Sweetest Taboo" brings a rugged take on the queen of smoothness, Sade; long-standing street tune "Annie Mae" was recorded in tribute to the inspirational Natalie Cole, and it appears here – as it does in Hot 8's parade sets – back-to-back with the propulsive Frankie Beverly & Maze cover "Working Together". The unshakable horn riffs of "Can't Nobody Get Down", and bubbling bass of "Keepin' It Funky",drop the listener right back in the centre of an electrifying Hot 8 party crowd.

Transcending genres and trends, Hot 8 have performed and collaborated with artists from Lauryn Hill to Mos Def, The Roots to the Blind Boys of Alabama. Playing at the world's biggest festivals and constantly selling out headline dates, they are in heavy demand across the media, last year alone performing radio sessions including BBC 6Music Morning Show, BBC Radio 4's Loose Ends, Jazz FM, BBC Radio Scotland and BBC R3. Honouring their city's musical traditions while forging their own powerful legacy, Hot 8's story is set to continue apace via the 'On The Spot' album and tour.