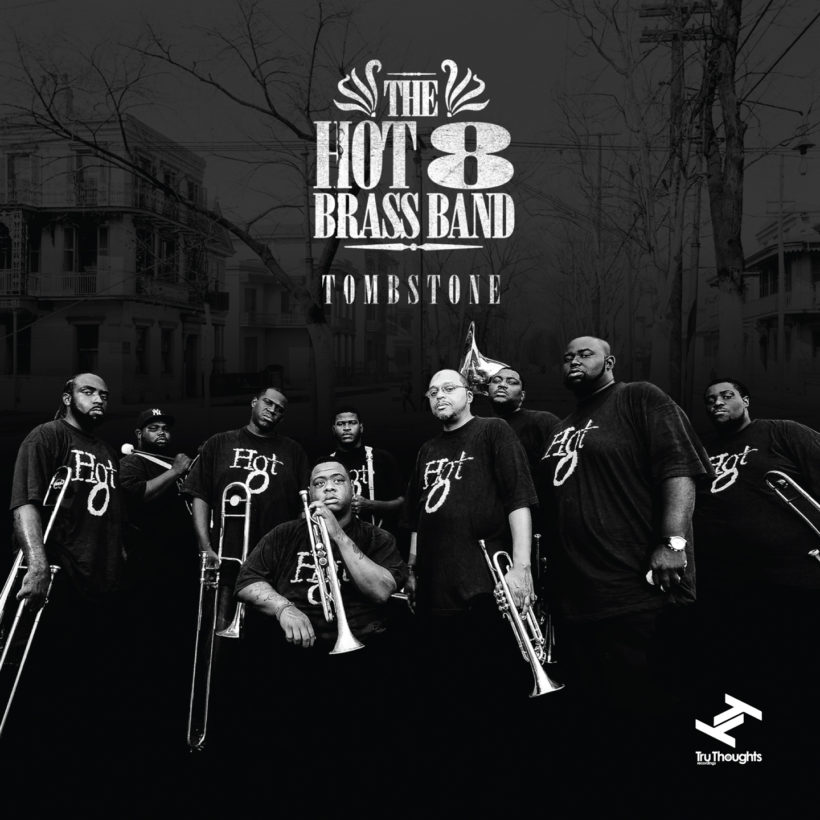 Released: 20 May 2013

Label: Tru Thoughts

'Tombstone' is Hot 8 Brass Band's third LP. The second instalment in a two-album set, it closely follows sister album 'The Life & Times Of…' (Nov 2012), which gained four and five star reviews including The Observer, MOJO, Metro, Songlines and The Big Issue, and widespread major UK and international radio support.

This new music comes hot on the heels of a three week sold-out tour of the UK and Ireland in March, in which the roof-raising New Orleans band treated audiences to the first live performances of hits from 'The Life & Times Of…' such as "Ghost Town", as well as upcoming nuggets from 'Tombstone'. Having always attracted attention for their music and their story (including featuring in Spike Lee's documentary When the Levees Broke and the recent HBO series Treme), on this visit Hot 8's ever-growing appeal led to their most diverse slew of media appearances yet, with sessions for Guardian Music, Cerys Matthews (BBC 6Music), BBC 1Xtra Breakfast, Loose Ends (BBC R4), Monocle 24, BBC World Service; and feature interviews for Craig Charles (BBC 6Music) and The Sunday Times.

'Tombstone' is a counterpoint to the straight-up party side of the band showcased on 'The Life & Times Of…'. Thematically a more sombre, emotional record, it presents another chapter in the history of the Hot 8 Brass Band – a new window onto the lives, the friendships, the heartbreaks, the roots and culture of New Orleans brass music and its players. The majority of the songs are personal dedications, in memory of the four Hot 8 band members, and other musicians and dear friends, who have passed away. And those that aren't dedication songs are new, original Hot 8 jams, party tunes that remind us – and the band – of why the music is worth it all; setting the scene for where the band are at today, while their city and its people still bear the scars of Hurricane Katrina, and where they are carrying the spirit next.

"These two records celebrate the times we have had both before and after the storm. Burying our dead and letting their spirits soar, celebrating our city and the lives that our band mates have lived individually and collectively as Hot 8," explains band leader and tuba player Bennie Pete, of these two complementary releases.
'Tombstone' is an album of stories. "Tombstone Intro" is a prologue to all the tales contained within. As much a hip hop track as a brass one, the Intro spans the many styles and musical inspirations of Hot 8, and tells as many stories, giving way to an uninterrupted run of great songs infused with jazz, blues, funk and a heightening hip hop influence. Sparkling hooks, charged vocals and dynamic rhythms wind out into expressive and playful horn solo breaks. Life, death, tragedy and revelry come together in a bittersweet sonic stew. A symbolic symmetry emerges as the "Tombstone Outro", rocking to the same atmospheric sway as the Intro, closes out he record. The first single, "Milwaukee Fat" (out 6th May), epitomises the album, showcasing one poignant and spirited dedication song for a lost musician and friend, and one raucous party tune (B-Side "Hot 8 Shit") that updates the age-old tradition of the drinking song along a Big Easy hip hop tip.

In many ways their most deeply personal record, 'Tombstone' is also the first Hot 8 Brass Band album to feature all original compositions. While the roaring success of inspired cover versions – including "Sexual Healing" and "Ghost Town" – may have widened their renown, this innately talented ensemble, ensconced in New Orleans' musical and sociological heritage, have lyrical depth and dexterity, compositional chops and improvisational flair to spare.