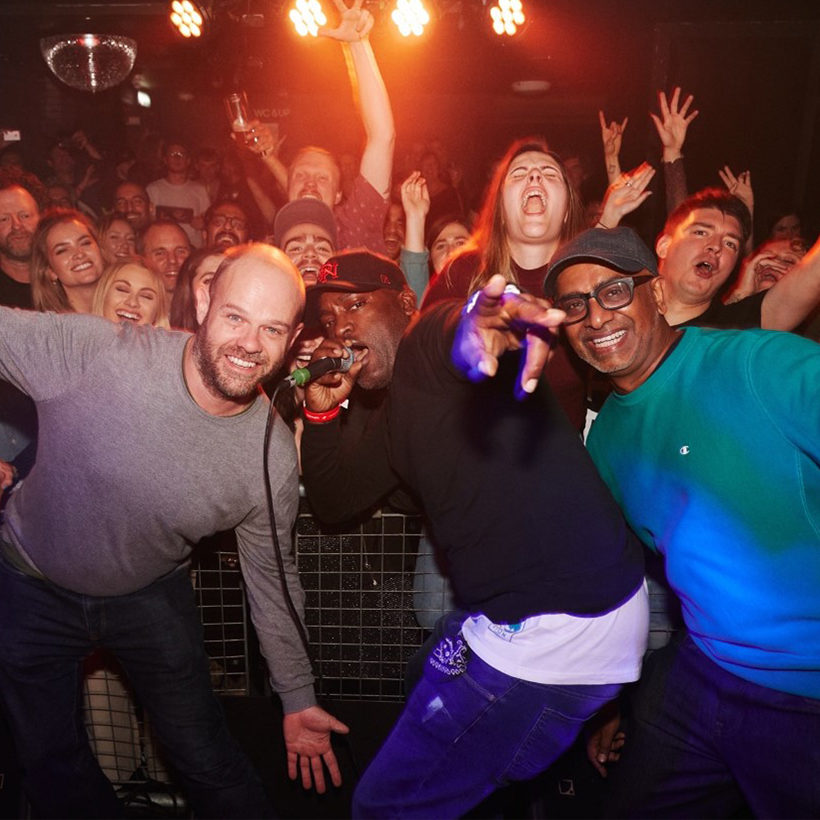 It's been an incredible year at Tru Thoughts with the celebration of 20 years of the label, alongside the day to day of new music, new signings, events, festivals and more.

In 1999 Robert Luis and Paul Jonas had just started out in the first ever Tru Thoughts office under Luis' stairs. Now in 2019 the label works internationally across a wide range of talent, continuing to grow, but keeping the guiding principle of putting simply great music at the forefront of all that we do. Read back through a summary of this year for an idea of what we've been up to.

JANUARY

We kicked 2019 off with Hot 8 Brass Band performing at Jools Holland's New Year's Eve Hootenanny, introducing their incredible New Orleans brass band sound to millions, they performed 3 tracks including "Get Up" and  "Love Will Tear Us Apart" you can check out a clip from the night HERE.

Our first LP of the year was Te'Amir's 'Abyssinia/Abyssinia Rise'. The release reflected Te'Amir's research into traditional Ethiopian music, taking the listener through the soundscapes of the Abyssinian Empire. CLASH Magazine called it "a genuinely fascinating, beat-driven, future-forward experience" while DJ Mag said, "Endorsed by the likes of Aloe Blacc, Kamasi Washington and Kendrick Lamar there's clearly no doubting his credentials and judging by this Ethio-inspired soul/beat driven LP, there's no doubting his own productions either".

FEBRUARY

Having performed alongside them at Jools Holland's Hootenanny, George Ezra turned out to be a big fan of Hot 8 Brass Band. After introductions had been made, Ezra got back in touch in February to ask the band to take to the stage with him at the BRIT Awards. You can watch Hot 8 take to stage with Ezra to play his hit "Shotgun" here.

MARCH

In March we celebrated International Womens' Day with a series of interviews with artists on the label, Siggi of Lakuta, Lalin St. Juste of The Seshen, Maralisa Simmons-Cook of Space Captain, Harleighblu, Kylie Auldist and Amber Navran of Moonchild. Catch up with all the interviews on our site.

"Create all the time. Release music. Post videos. Do things you don't think you can do, then prove yourself wrong. Point out moments when the men around you are making assumptions about you or about the women they encounter in the industry and counter them. Empower the female musicians around you. Make yourself a part of the conversation even when someone doesn't include you because of an assumption they've made." – Amber Navran

We also released 'Meets…' in March a new compilation from the producer, DJ and reggae mastermind Wrongtom. On playing one of the track from the album on BBC Radio 2, Craig Charles said "If you don't like this then just throw away your ears".

APRIL

For Record Store Day on the 13th April "Working Together EP" from Hot 8 Brass Band was released on limited edition transparent blue vinyl. It saw label mates Wrongtom, J-Felix, Magic Drum Orchestra and Animanz remix previous singles "Love Will Tear Us Apart" and "On The Spot".

We also put out a series of Record Store Day Recommendations interviews with Animanz, Glyn of Magic Drum Orchestra, Wrongtom and Robert Luis in the run up to the main event. As artists and DJs all with impressive vinyl collections, it was a fascinating insight in to the past, present and future of what makes a meaningful record.

"The knowledge in good record shops is from real people. Algorithms work to an extent but they always suggest something terrible! Whereas good record shops with real humans understand the nuances of musical tastes in a way no computer programme can. Also getting recommended music by people who love music too is always going to give you a better quality record collection than a pre-programmed computer." – Robert Luis

MAY

After taking to the stage together at the BRIT awards in February, Hot 8 Brass Band were invited on the European leg of George Ezra's tour in early May. Performing to thousands across the continent, audiences previously unfamiliar to Hot 8's music were soon dancing to all their hits. Watch the tour diary here – look out for a glimpse of the Hot 8/George Ezra rendition of "Shotgun".

Elsewhere, Bryony Jarman-Pinto supported the legendary Roy Ayers at London's Union Chapel for two consecutive sold out shows. The Telegraph included the Roy Ayers' gig in their 'Best Jazz and Folk Gigs of 2019,' mentioning Bryony and her band as "squeaky clean and sweetly sentimental."

It was also a busy month in the office with three albums released – Hidden Orchestra, 'Live At ACCA,' Flowdan's 'Full Metal Jacket' and 'Studio Don' from Lightning Head. "Welcome To London," the lead single from 'Full Metal Jacket' was recently included in The Guardian's top songs of the year.

JUNE

'Atlantic Oscillations' marked the return of world-renowned British producer Quantic, his first album under his main solo moniker since 2014's 'Magnetica'. Currently the album has over 2 million streams and counting. You can read Quantic's June interview in Rolling Stone here.

JULY

Summer had finally arrived along with an abundance of festivals. Eleven festivals in July alone had Tru Thoughts artists on the line-up.  We headed to as many as possible including The Little Chill and Love Supreme for Bryony Jarman-Pinto's set at the Bandstand.

Tru Thoughts also released the debut album 'Made In Pieces' from Mancunian six-piece soul collective, Pieces of a Man. Encompassing a range of genres from gospel and choral soundscapes to neo-soul and  jazz-funk, the release received widespread support on BBC 6Music, BBC 1Xtra, KCRW and more.

AUGUST

In August, Bryony Jarman-Pinto released her debut solo album on the label, her soulful sound providing the perfect soundtrack for the Summer months. PopMatters recently included 'Cage And Aviary' on 'The 15 Best R&B/Soul Albums of 2019' saying "Proving once again that London might just be the low-key world capital of modern R&B music, Bryony Jarman-Pinto announced herself to the universe with a debut that pushes the genre forward unlike most anything else released in 2019."

Also in August as part of the ongoing 20th birthday celebrations we took over the Lighthouse stage for the Saturday at Boomtown, with appearances from J-Felix, Wrongtom, Bryony Jarman-Pinto, Anchorsong, Ego Ella May, Nostalgia 77, Rodney P & Skitz and Alice Russell. Check out some footage from the event here [LINK to vid].

Also released in August was 'Firmamentum' the first LP from Gawd Status. Covering A.I, religion, madness and more, this collaboration between King Kashmere (Strange U) and Joker Starr quickly gained attention.  The album was recently included in 'Choice albums of 2019' on Monolith Cocktail with the site saying "It's a work of art that burns bright like a brilliant, tumultuous dream".

SEPTEMBER

September saw the release of Terror Danjah's 'Invasion', Ego Ella May's 'So Far' and the return of Moonchild with the release of their 4th LP 'Little Ghost'. Lead track "Too Much to Ask" would stay on the 'A' playlist at Jazz FM for over seven weeks. Having just recently finished their American tour, the L.A. based trio will be in Europe and the U.K. from the beginning of next year. Tickets here.

OCTOBER

National Album Day on October 12th celebrated listening to albums in full in the age of playlists and streaming. We asked some of our artists to tell us about the albums that have had a significant impact on their lives.

"When I was younger i used to go bombing (graffiti) everyday. I was enamoured by it and loved reading up on the history of it in New York. I would always envisage the subways, train yards and layups and it would give me a certain feeling. This album fully captured that vibe as well as embodying and defining what underground hip-hop can do when left to go wild. So many themes in this album from Philip K Dick sci-fi references, to life as a stepson with an abusive stepfather. This is army fatigues, timberland boots, headphones and backpack music. If you know you know!" –

King Kashmere, Gawd Status

Read the full article here.

Tru Thoughts also released Rhi's sophomore album, 'The Pale Queen' in October. Entirely produced, written and recorded by Rhi, her new music received support from the likes of The New York Times, BBC Radio 1 and 6Music.

NOVEMBER

In November we put on a nine hour takeover of Patterns in Brighton for our ultimate 20th birthday celebration of the year. Check out the video of the night here.

We also released our compilation 'Shapes: Diamonds' and 'Expanse' from Tel Aviv trumpeter Sefi Zisling. One of the most recent signing to Tru Thoughts, Sefi said of the album "There's a healthy tension between the tight and groovy to the free and the abstract… harmony is achieved by embracing the disharmony in our life, and that darkness and light are equally important". The LP has already received support from Jazz FM, FIP and was most recently Tina Edwards of WWFM Record of the Week.

DECEMBER

Heading in to the final month of the year, we digitally released the 'Tru Thoughts 2019 Compilation' celebrating the best of the wide-ranging and international releases from this year. Stream it here.

Another year older, we  are already looking forward to hearing even more incredible music from around the world in 2020. See you next year!